I like clocks.
I'm not talking about those modern yokes that need a battery, but rather the real ones that require winding. Comparing the two is like comparing a diesel locomotive with a steam engine. Modern clocks may tell the time correctly but they lack soul.
Many years ago I bought a Highland clock [or as some call 'em, a short-case clock]. I got it in an old junk shop and it has been merrily keeping time since with a gentle tick and loud bongs on the hour and half-hour. I love that clock and it brings back happy memories. It's part of the atmosphere of the house.
Last week, the bongs stopped.
It was due a bit of tender care and cleaning anyway so I took it down and dismantled it.
I removed the hands, the pendulum and the face and then gently eased out the clockwork from the body. As I suspected, the bong spring and the tick spring were both overwound. It was just a matter of easing the tension on them. To do that, I inserted the key, put a bit of tension on it and released the ratchet. Fine. Did a half turn and then repeated. There was a long way to go but I was taking it slowly and carefully.
Then the ratchet slipped.
An overwound spring is quite a powerful fucker, and releasing it without restraint is the mechanical equivalent of shorting out a battery. The key was still inserted and suddenly it went into a violent and incredibly fast spin. And has luck would have it, my hand was still in the vicinity and two of my fingers took the brunt. They both went blue and numb. It was really fucking painful.
I eventually managed to release both the bong spring and the tick spring and set to work cleaning the works. I then discovered that the sudden and immense release of tension on the spring had caused some damage. Bollox!
At this stage I was having to work with only two fingers and a thumb on the right hand. However, a clip needed removing, the screwdriver sipped and I took the knuckle off one of the remaining fingers. I was now down to a thumb and an index finger on the right hand.
I carried on regardless, pumping blood all over the place. I managed to repair the damage and got the bongs to work. Brilliant!
I reassembled the whole thing and hung it back on the sitting room wall.
Two minutes later it stopped ticking. Fuck!
Where I had a tick and no bong, I now had a bong but no tick.
I took it down again and stripped it to pieces once more. I found a problem – an axle pin had jumped out so I eased it gently into place. I reassembled everything and hung it back on the wall.
Ten minutes later it stopped again.
It's currently lying on its back on the kitchen table waiting for its next operation, while I enjoy a well earned mug of tea. I'm not going to give up on it. I'm stubborn, like that. Herself suggested a new clock but I said no – I like the old one.
I suppose I had better get back to it….
Time waits for no man.
There seems to be a huge divide in the UK this weekend.
This is the weekend of course where "plain packs" are introduced, packs of 10 are banned and electrofag users start to enjoy being picked on by the Tobacco Control Industry.
On one side of the divide we have Tobacco Control. They have been partying and having orgasms of delight at this major step towards eliminating Big Tobacco. This weekend's measures are a huge nail in the coffin of the hated industry, a "major milestone" and a gigantic step towards eliminating smokers.
On the other side of the divide we have those who are directly affected by the measures, and from what I can see, the measures have been met with resounding indifference and more than a little mirth. Some vapers of course weren't to happy when they finally and irrevocably realised that Tobacco Control wasn't on their side after all, but then we did warn them and they only have themselves to blame.
If anything, this weekend has shown how Tobacco Control is completely out of touch with reality. They reckon that medical porn is going to strike to the very heart of smokers, yet they overlook the fact that the same images have been around for a very long time. Making the images a bit bigger is hardly going to make a difference? Everyone is used used to just ignoring them.
They also seem to think that banning packs of 10 is another huge milestone. They claim that it's to allow room for their porn, but the same measure was introduced here in Ireland many years ago and the excuse here was that somehow only the cheeeldren bought those packs. Retailers were of course delighted as it cut down on shelf space and the only people who were really affected were the elderly and those trying to cut back a bit. Needless to say those people just switched to buying bigger packs.
I am actually a little confused by the ban on small packs. It would appear to be a move to encourage people to buy twice as much and make fewer trips to the shop, yet electrofags have gone in the opposite direction and made the supply smaller just causing more trips to the vape shop. Another face-slap moment for Tobacco Control?
One of the greatest indicators of the low intelligence in Tobacco Control was the hissy fit they threw in the last few days over cigarettes being sold in tins. Every toy in the pram was thrown out as they screamed how Big Tobacco were flouting the law [they weren't] and weren't "entering into the spirit". Tins will encourage people to decant from drab packets into glitzy tins? So what? Even people with IQs in single digits have predicted this would happen but apparently in the rarified atmosphere of Tobacco Control, it never occurred to them?
In the course of my meanderings through the Interwebs I came across a video on Christopher Snowdon's site.
It's worth watching in full.
It would be funny if it weren't so sad.
The failure of plain packaging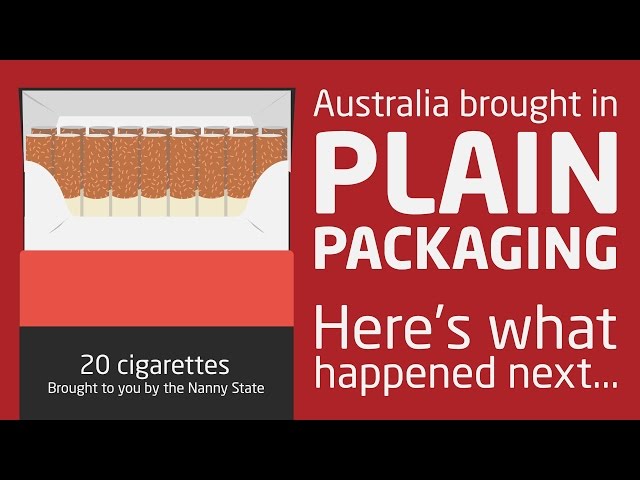 Alas I shall not be taking any interest in Irish news for the next few weeks.
Not that I do anyway, but that's beside the point.
You see, our Illustrious Leader, Dame Enda has announced he is stepping down, and the meeja are going into a feeding frenzy over who shall replace him.
I don't give a flying fuck who replaces him. Unless there is a miracle on the scale of the parting of the Red Sea, we are going to just get another cunt to replace the previous cunt.
We have had wonderful bunch of leaders over the last couple of decades.
There was Haughey who lived the life of a multimillionaire with the help of bungs, backhanders, brown envelopes and various other methods of selling political favours.
After him we had Bertie Ahern who studied "economics" at the hand of Haughey and therefore followed the same principles. Of course he was the one who jammed his foot on the throttle of the economy, leading us into a financial meltdown, while suggesting to those that warned of an impending crash should commit suicide. Nice one Bertie! Naturally the little cunt jumped before the economy hit the buffers.
What can I say about Cowen? Not much. He just lurched from crisis to crisis in a haze of alcohol while the entire economy went up in smoke.
Then we got Dame Enda. He was from a different party from the above some some had hopes that he would be different. In fact he was. There is little evidence of backhanders all right, but tons of evidence that he was completely out of touch with reality. Who can forget his imagined conversations with "The Homeless Man in Merrion Square" or "The Man with Two Pints"?
Dame Enda was most noted though for constantly announcing to the world that Ireland was out of the financial crisis and was back to a booming economy, while in the real world there were strikes, a health service crisis, a housing crisis and a growing number of homeless.
So now the meeja is full of idiots talking of Dame Enda's wonderful legacy and what a great leader he was. I don't suppose they ask any homeless family for their opinions?
So he is soon to be gone, just as soon as they find some moron to replace him. Off he goes with a little handshake of €3 million. Yes – a pension of €126,000 a year out of our taxes.
Not bad for a fucking primary school teacher from Mayo?