Do You Know The Bishop Of Norwich?
(for those who weren't raised in the British middle class and taught how to behave at the table  I should explain that the phrase 'Do you know the Bishop of Norwich ?" is a polite way of asking your neighbour at the dining table to pass the port- you get it? "Pass the port "= Passport….oh yes I am on fire today!).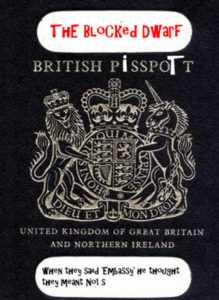 In recent days the denizens of Britshire have been much vexed by the thought that Johnny Foreigner might be the one to make OUR new blue passports. There have been petitions…
Personally I couldn't give a Brexshite XXXX who makes our blue passports , just so long as they are indeed blue and capture some of the magic, nay mystic,  of the one my parents gave me as an18th Birthday present (Mother Dwarf not being the subtlest of persons). As far as I can see the blue passport will be something good, perhaps the only good thing, to come out of Brexit.
The weekend before last I went on a baccy run to Belgium and upon my return decided the time was right to renew my disgustingly crimson passport (who was it who coined the phrase "looking like some soviet seamen's papers"?). It didn't expire for another month but with the Easter holidays approaching and knowing from past experience how slow the Passport Office can be…
The two regular readers (Shout out to my mum & Sis) of my verbal diarrhoea  will know I get somewhat worked up about the inefficiency of our various government agencies and knowing that  government departments and technology are mutually exclusive, I admit it was with some trepidation I opted to use the all new, shiny, Online Passport Service-BETA.
After inputting my basic details, answering the basic questions- you know, "Are you alive?" "Do you require this service in Welsh?" it required of me a new uptodate .jpg of my handsome face. As the computer shop opposite the Dwarf Hovel does passport photos and wishing to support the local economy I decided to go across the road, pay the nice young lad 8 shiny pounds and be done with the stress and aggro of trying to take one myself.
That was at around 09:30 Monday morning. It took 6 or 7 further visits to the Computer shop to get a .jpg that the automated passport photo checker would accept. The Nice 12 year old at the shop tried both professional digital cameras they had. In the end, in exasperation, he snapped a shot with his own cellphone which the automated passport photo checker accepted without quibble. Of course. And that despite my head being tilted, weighed down by the blossoming migraine I always get when dealing with the yUK.gov.
So round about lunchtime I finally submitted the online application form and then, whilst waddling around our fair Parish with The Bestes Frau In The Entire World, I sent off my old passport to be cancelled. I submitted that application using the £70ish 'vanilla' service and not the Premium Rate XXX (ie obscenely fast or 2 weeks instead of 4) one, and they informed me it would take up to 3 weeks. To which my mental response was "HAH! Drown in your uncivil service lies! Not when one of those 3 weeks is Easter it won't!". A most unworthy thought on my part as it transpired:
No your eyes don't deceive you. This morning, Monday 26.03, at 09:30 I received my shiny new passport by special courier. Less than a week (by a few hours) after I had submitted the form. I shall never grizzle about our Great British  uncivil service again…well at least not until the next time their ineptitude puts me back on the Ol' 3 bicycle antidepressants ('tricyclic'-get it? Like I said, I'm on fire today, baby!).
[This was a guest post by The Blocked Dwarf just in case you hadn't guessed.  GD]