He is the image of every other baby
I have always been amused at the different reactions babies elicit.
Nowhere is the difference between the emotions of men and women more profoundly illustrated than in the reaction to the sight of a new born baby.
I used to notice this in my working days.  One of the women in the office would be careless, and get herself up the duff.  The inevitable day would come when she would make her grand appearance back at the office, carrying a bundle of blanket.  The reaction would be instantaneous – all the women in the office would make a mad scramble across desks and tables to be the first to see this mewling squawking lump.  A few blokes were outed too, when they forgot themselves and joined in the rush.  There would ensue a nauseating cacophony of squeals and coos and they would all say exactly the same thing – "isn't he/she beautiful?".  This always struck me as absurd, as all babies look much the same.  Some are wrinkled and some aren't but apart from that they are just babies.  While all this was going on, the blokes in the office would remain at their desks, cast their eyes to the heavens and carry on playing whatever computer game they were playing at the time.
Men tend to be far more pragmatic about such matters.
I went down to the pub last night, as tradition demands that I be brought a few pints on being a grandad [again].  In case of argument about my entitlements, I brought a couple of photographs.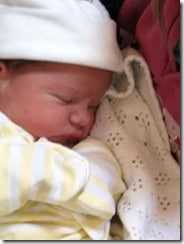 I duly displayed the photographs and apart from a couple of grunts, the general line was "do you know who the father is?"  I ignored that, as my daughter's private life is her own, but it illustrated perfectly the gender difference in reactions.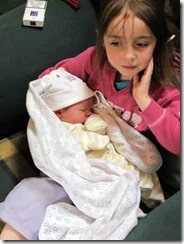 Someone else remarked that she was awfully young to be having babies, but I pointed out that that was Puppychild, and not my daughter.
Just to be on the safe side, I examined Tom to see if he resembles anyone.
To me he just looks like a bad tempered drunk sleeping off last night's binge.
He's the image of his Da.