Three thing happened yesterday.
The first is that our blackbird fledgeling has left the nest. There was a short flurry and it climbed onto the garage roof. I tried to get to my camera, but as usual, I was too late. Those blackbirds are damn fast. It's back now, and perched outside the nest, looking rather dishevelled.
I tried to get a photograph but the bugger keeps hiding behind branches, so I can't get a clear shot.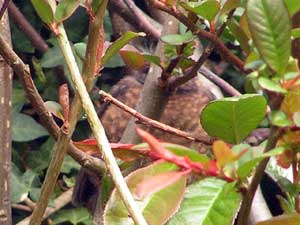 He keeps hiding behind branches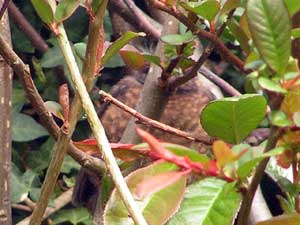 but you can just see his beak
The second is that I discovered that Offspring [K8] is a better poet than I thought. I don't know where she got it from. It must be her Ma's side of the family. She's not bad at the photography either.
The third thing that happened is that I discovered Skype. I had known about Skype for a while. Ron even installed it for me, and set me up a long time ago. But I'd never had the nerve to use it.
Yesterday, I found an old set of headphones and a microphone, and the next thing I knew, I was chatting away to Brianf in Philadelphia. It was a strange experience, as it was clearer than a phonecall. Suddenly I had an American accent in both ears Brianf is of Irish descent but lives in America, so he has to have an American accent. It's the law. I don't mind.
I'm supposed to be phoning another bloke over there, but I have to wait until midday. They don't get up until five hours after we do. They are a lazy shower of b*st*rds over there.