Google in major breach of privacy
I cut the grass yesterday.
Naturally I had to jump through all the hoops that such a job entails.  The battery was nearly flat and one of the tyres definitely was.
While the battery was on a quick charge I removed the offending wheel.  Naturally I couldn't inflate it due to the old tubeless tyre problem.
Of course I remembered the sage advice I received the last time I had this particular quandary, which was to use barbecue lighter fluid.  So I brought the wheel out onto the front drive [in case I demolished or at least set fire to the garage.  I poured the fluid into the tyre and set fire to it.
It lit all right but the whole wheel just vanished in a sea of flame, which wasn't supposed to happen.  What was worse, I hadn't taken the precaution of having a bucket of water on standby.  As luck would have it, I was in need of an urgent pee so that was that problem solved.  Luckily no one passed my gate on the lane, or they might have wondered what the fuck I was doing.

I eventually got the tyre inflated using a new invention of mine – a mixture of Vaseline and washing up liquid [patent pending], and got the battery juiced up enough to get things started.  I mowed the lawn which was a bitch as the grass was about six inches deep and was sopping wet.
But what has this got to do with my headline about Google, you ask?
By coincidence I was messing around with Google Earth afterwards and checked out The Manor.  Fuck me but there I was mowing the lawn!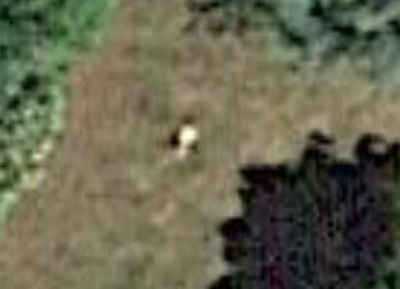 I grant that it's a little fuzzy and the weird lava flow on the bottom right is in fact a shadow of a tree and not a lava flow but I am clearly identifiable in the act of finishing off that corner of the lawns.  You can see that I was wearing a white t-shirt and my hair is in need of a comb.  Scandalous!
I never gave permission for that photograph.  My garden is a private place and there are strict privacy laws governing over flights by drones which presumably also apply to satellites.  But they have the absolute gall to not only to spy on me in my private space to to publish that photograph in a place where the entire fucking planet can see it.
I'm going to sue them for millions.