My wonderful gubmint has eased the restrictions they had imposed.
There is still a Code Red in force until six this evening, but I am now allowed to step outside provided I don't go anywhere.  Isn't that good of them?
Storm Emma came and went and was about as impressive as a wet fart. It's still snowing though and is about nine inches deep.  I have seen a lot worse.  Yes, I remember '63 and '82 but even though they were worse we weren't blessed with a "National Emergency Co-ordination Group for Severe Weather" so we just went about our business in blissful ignorance.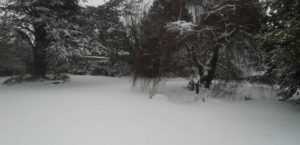 Cat was driving me demented this morning with her yowling.  She would sit at the door and yowl.  I would open the door and she'd flatly refuse to go out so I'd close the door again.  She would then pace around my feet yowling non-stop before heading for the door and repeating the whole process.
Even I have my limits.  I fucked her out unceremoniously.  Unfortunately [for her] she landed in a snow drift and vanished into a nice cat-shaped hole.  It gave Penny a laugh.  She eventually dug herself out and came back in, very quiet and apologetic.
I presume there will be major complaints from a lot of people how the Code Red applied to the entire country when some parts saw little or no snow at all.  my bet is that the response will be the usual "if it saves just one life then it's worth it".  I have a problem with that.  I demand to see that one person and see whether he [or she] is actually worth it.
It may well be more practical to just bump that one person off beforehand?
It would save a lot of panic and inconvenience?