Eons ago, possibly before time was invented, there used to be a great bash here in Ireland.
I refer of curse to the Blog Awards.
Back then we were fewer in number but you know what they say about quality and quantity.  Modesty prevents me from mentioning that I picked up a few awards in those years, but the event itself was worth attending for the sheer craic and of course the pints.  We got to meet the faces behind the names and swap stories.  It was fun.
Then the whole scene seemed to be taken over by the pink and fluffy brigade.  "Blogs" started appearing out of nowhere and they all seemed to have a very common set of themes – fashion, make-up, lifestyle, cookery, beauty and in fact anything that would impress a Millennial with barely two braincells to rub together.  The awards organisers even dropped the old categories of "Humour" and "Personal".  Lately the whole thing has been sponsored by Littlewoods and their fashion range which speaks volumes.
I have been studiously avoiding the blog awards for years now.  I have stopped even mentioning them in case some smart arse entered my efforts behind my back, not that they would be able to find a category to stick me in.
I was somewhat surprised therefore to receive a mail this morning.
Head Rambles Blog in Feedspot Top 50 Grandparent Blogs
They even sent me a wee badge to confirm the fact.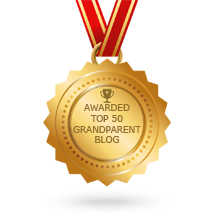 I had a look at the site and some of their categories are somewhat "interesting".
Top 15 Spoon Carving Blogs & Websites For Spoon Carvers
Top 100 Miami Blogs and Websites on the Web
Top 75 Witchcraft Blogs and Websites for Witches
Top 50 Geocaching Blogs and Websites For Geocachers
It sure beats the hell out of Beauty, Fashion and Make-up?