I received a guest post submission from The Blocked Dwarf yesterday.
He added in his cover note that I might not want to publish it, and seeing the topic, I can understand why he might think I might be reluctant.. However, anything goes here so I have no problems with that.
However, I have diametrically opposite views, so the though crossed my mind to publish his piece and then follow it up with my own viewpoint. Two birds with one stone as it were?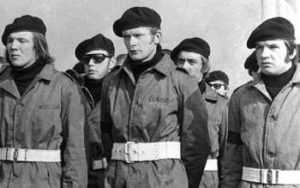 The Blocked Dwarf….
Since the UK Smoking Verbot I make an effort not to unnecessarily patronise those Quisling businesses
that didn't fight against the ban. I mean places like Pubs, restaurants, cafes…and churches.
But a trapped nerve at C2 means me shaving my own head ('if yer lawn is patchy-mow it!') requires amounts
Ibruprofen that will burn holes in my stomach even with ranitidine.

So this morning I was at the barbers and whilst my loaf was being cut-throated (yes my barber will still do
a cutthroat shave, council and insurance regs be damned) Radio BBC Sheep Worrier was playing music to
plant sugarbeet to. Then came the news that Martin McGuinness had died.

Now you have keep in mind that , after having experienced the Orange Order up close and unfriendly in
in the 80s, I was a card carrying member of Cairde Sinn Féin who made a point of wearing his 'IRA Undefeated Army' T-shirt on Wemembrance Sunday and playing 'Rifles' at max volume during The Silence (yes, how very mature
of me I know but you try being married to a German in 'traditionally tolerant' Britain).

So I thought it best to keep my mouth shut whilst those in the barbers rejoiced at McG's passing.
Never start an argument when someone has a cut throat to your head.

But I was shocked, even knowing full well how Brits can be when dancing on the graves of their enemies.
More than once I was close to putting one of the little islanders down with a remark about that former
murdering terrorist scumbag Mandela.

But even more than that what I wanted to say was: 'Blessed are the peacemakers'. Whatever evil McGuinness and Adams did in the name of Freedom will be forgotten, will be outweighed by The Good.'

I still hope to see Gerry inaugurated as Taoiseach of ALL Ireland…that would serve the bloody bog trotting
taigs right and royally piss off the barber's chair wannabe Paisleys.
Grandad….
I am what might be classed as Irish, and as such should be all in favour of fighting for a united country. Or at least this is the perception of a lot of non-Irish. It may surprise a lot of those self same non-Irish to hear that the vast majority [including myself] were totally opposed to the IRA and their ilk.
Every time a bomb went off, whether in the North or over in Britain I felt shame that the act had been done purportedly in my name. It wasn't in my name, or indeed in the name of the Irish – it was in the name of a murdering bunch of criminals who seemed to think that it somehow was right to blow people up at random in the name of "freedom".
On a couple of occasions I came face to face with "the Troubles". I narrowly missed being caught up in the Dublin bombings in 1974 and was also caught up in the attack on Heathrow Airport in 1994. On both occasions I felt nothing but hatred and contempt towards the perpetrators on both sides of the argument.
I never trusted Sinn Féin. They were nothing short of the propaganda wing of a terrorist group. Their avowed aim was to unite Ireland "with a ballot box in one hand and an Armalite in the other". Martin McGuinness along with Gerry Adams was one of their leaders and was therefore inextricably linked to the killing and mayhem.
Much has been made of the involvement of McGuinness in the Peace Process and how he should be remembered for that and not the murders he committed. Bollox. The Peace Process was merely a cleaning operation after the terror and mayhem caused by the armed militia on both sides.
How did I react on hearing of the death of McGuinness? I didn't exactly cheer [death is death after all] but I can't say I felt any sorrow. The man was a murderer and a terrorist first and foremost, no matter what he did in later years. He never helped with the recovery of the so called Missing – those who were murdered by the IRA and whose bodies were dumped and never found, so information vital to the relatives of those Missing is forever gone.
So I don't mourn his passing, and judging by reactions here in Ireland, nor do a hell of a lot of Irish.
You can take the man from the IRA but you can never take the IRA from the man.