"Semois, LeClerc! partie"
Once again, the Blocked Dwarf takes to the airwaves, giving me a chance for a snooze.
—oOo—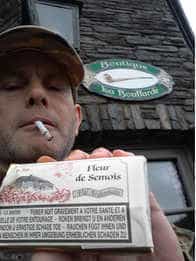 I'm neither Dutch nor much of a pipe smoker. But I do read the dutchpipesmoker blog (it's in English, my Dutch wouldn't unblock a dike) because the clog, who runs it, 'Arno', knows a hella lot about tobacco and a couple of well known commercial artisan tobacco and pipe makers post on his site . A few years back that site had an article which introduced me, and many others I suspect, to the tobacco of the Semois in general and Vincent Manil's in particular. So here my impressions and some travel tips for anyone wanting to pilgrimage to Corbion, surely the Santiago de Compostela of the blessed 'Tabac des Brumes' ('tobacco of the mist'). Infact Corbion might do well to get rid of the ugly war memorial that dominates the centre of the village and instead erect a statue to Our Lady Of Snows- in her role as protector of small tobacco growing villages (real tobacco geeks will know what I am on about).
As said, I'm not a great pipe smoker (although since becoming a Granddad for the 2nd time I shall enjoy sitting outside with a long Churchwarden or Bavarian pipe , long beard white as cocaine and watching my great grandkids play….perhaps among those heritage tobacco plants I should like to grow). I smoke up to 60 cigarettes a day and my preference is for the French and German tobaccos of my youth, no doubt of all our youths. When it was announced a couple of years ago that Geudertheimer tobacco would no longer be grown in Germany I think not only a part of my childhood died but a part of my soul too.
I was in Germany last summer and standing at the supermarket till I saw not one single traditional German brand of cigarettes. No Roth Haendel, no Ernte23, no Reval, no Juno, no Eckstein5. There was only 'HB' left to fly the flag of the once mighty German tobacco industry and 'HB' were always more an 'American' style brand. Caporal, my Reich for a caporal!
But I digress. This post isn't about German tobacco but Belgian. Ever since reading here about Semois I had wanted to get to Corbion , to see Manil's tobacco cutting machines (until recently I sold tobacco cutters myself on ebay ) and to taste the fabled tobacco. Most years I drive over to Germany for a family holiday and each time something has prevented me from detouring into the Ardennes.
Well this time I decided things were going to be different!
I went onto Manil's website but couldn't find any mention of his opening times. So I emailed him in my best Google Translate ® 'French' and waited for a reply. After a week or so of waiting, and needing to get on and book the ferry etc I asked a good friend, the well known or even, perhaps, infamous UK blogger and former resident of la Belle France herself, the Landlady of the Raccoon Arms ; Anna Raccoon to call Vincent and ask him if and when he was open. Like most Brits my age, I had 5 years of French at school and will be able to recite the irregular 'ir' verb endings on my death bed, can read french well enough to understand what "chaussée dégradée" means but I can't speak it much beyond getting a cup of coffee…and that despite having lived with a Parisian girl for 6 months or so ("Koo-Shay avek mwaa sherry,sir swaa?"). Good friend to me that she is, Anna Raccoon rang Vincent (whom she described as 'charming') and confirmed in her best Ex-ex-pat's French that he would indeed be open on the day I planned to visit.
I had intended to stay in the Hôtel des Ardennes at the end of Rue Tambour, a couple of doors down or rather UP the hill from Manil's atelier. Unfortunately they were full that day so I booked in to the Hotel Corbillon which is a couple of minutes walk away.
Don't.Make.That. Mistake.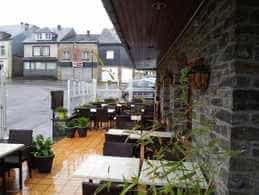 …unless you enjoy paying 23€ for a burger made from that fancy Jap beef (hand rubbed daily with liquid gold and diamond dust it seems) and micro fries or enjoy staying in mildew smelling cramped NON SMOKING rooms (a150€ 'fine') with dial up speed WIFI, no cell reception and a surly Patron. Mind you, for all his surly Anti Smoking tirade (and he's a smoker himself!) the guy can cook. The Bestes Frau In The World tells me that the 23€ burger and fries were worth every cent. Me, myself, I'm a Brit and you could serve me cardboard with a 'Mc' infront of it and I'd be happy, as long as there was vinegar for my fries. At least the Patron of the Corbillon didn't try ruining a plate of fries with mussels. I rank the Belgians among the world's best brewers, best chefs, best chocolatiers, best fries fryers and, of course, best tobacco makers. But no one in their right mind thinks mussels go well with fries. I was brought up on the North Sea coast, so trust me, you do not want to eat anything that comes out of that 750,000 km² open sewer.
Was very surprised by the Corbillon Patron's attitude towards smoking because, tobacco is the only reason anyone would ever want to visit Corbion. Once you get off the motorway and through Bouillon (where the last exciting thing to happen was the start of the Crusades) then you've got a 7km drive ,winding up a mountain on chaussées both "déformée" and "dégradée", to get to Corbion.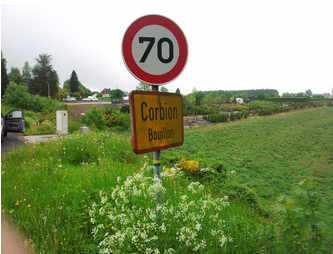 One glance at the village sign and you know exactly how the village has fared since the tobacco trade all but vanished. I would say a 'one whore town' but I'm betting the nearest whore house is 7km back down the mountain in Bouillon.
The next morning, after a surprising cracking good breakfast at the Corbillon, I left The Bestes Frau In The Whole Wide World sleeping and drove round to Manil's shop. It was raining. Of course. It's no wonder the tobacco of the Semois tastes so good, no tobacco plant was ever as well hydrated as the semois 'brun'.
Vincent was behind the counter when I walked in. Bear in mind please, that not only do I not speak much French, I also talk in German to the wife 24/7. So my attempts to communicate with Vincent were in half forgotten school 'plume de ma Tante' French, English peppered with German and , above all, sign language.
I tried to explain to Vincent that the very first thing I wanted to do was to buy some of his Coupe Fine (Gauloises or Van Nelle width fine style fine cut, marginally thinner than English style tobaccos) and roll a cigarette there and then. Finally get to taste what Arno and so many others have raved about. Which i did, the photo at the top of this post proves it.
I stood outside the shop and smoked my first ever semois cigarette.
So what was it like?
Bear in mind that after the better part of 3 decades of professional, heavy duty, alcoholism (i've been 'dry' for the last ten years, thank you for asking) my neural pathways are 'scrambled'. Tastes and aromas are all mixed up. For example, the finest Perique smells to me like tomato ketchup fermenting over cow shit. Now there's a mental image to terrify any pipe smoker!
Rolling the semois I noticed straight away that i was handling actual real tobacco(albeit a little drier than i would normally expect a rolling tobacco to be) not reconstituted 'tobacco' sheet, 'improved' with 400 different E numbers and mercilessly homogenized to taste the same packet for packet.
Manil's tobacco is just that. Tobacco leaf soaked, cut & toasted. If there was a 'Reinheitsgebot' for tobacco, semois would fulfil the conditions. Opening the packet i smelt a light top note of ammonia, as oxygen hit the tobacco, over a strong vanilla tea aroma. Judging by the very very slight green shade of some of the tobacco, I'd guess (if i hadn't have known already) that this was air cured peasant style ie hung in a shack for a year or two which means every cure , every batch , every harvest will vary from farm to farm. The locals no doubt believe the morning mist rolling into the open barns imparts something of the soul of region to the tobacco, and after having tried it i might even buy into that piece of rural mumbo-jumbo.
Lighting up the vanilla note continued over a classic but very very refined 'tabac brun/Gris' taste. I say 'refined' but maybe 'luxury' would be a better description. Which coated the back of my mouth the same way a good cheese does. The after note on my tongue and lips was light liquorice-y and anise-y. As a caporal man I fell in love. If Boyards was the pox ridden Parisian street whore and Gitane was the gypsy dancer, wild and svelte, then Semois is the daughter of the local aristocrat, with more breeding than money, wth genes back to the Merovingians but rooted in her beloved homeland. It is also one of those tobaccos which constantly surprise you with new facets of flavour. Smoked one a minute ago, whilst writing this, and i feel there was a hint of berries and chocolate today. The other day i thought there was some estrogen-y vaginal coppery-ness. Like i said, my neural pathways….
I tried to explain to Vincent that after finally trying the semois I wanted to see the museum and workshop.
And that was when I almost burst into tears as Vincent started to say that the museum was closed that day. But I pleaded a little, ok a lot, and looked so goddamn miserable that he relented and said he would open up for me.
I could have kissed him. But I leave all that men-kissing-men stuff to the French.
He led me down the stairs to the basement to the workshop/museum. Before I was halfway down the short flight of stairs I was overwhelmed by the aroma. I've smelt a lot of fresh cut tobacco over the years, and I'm talking 'real' tobacco not the crap they put in cigarettes these days. But nothing could have prepared me for the aroma in Vincent's basement. "Heady" doesn't come close to describing it, "Head rush" might come nearer. Never been a believer in either Homeopathy nor Aromatherapy but, sweet Jesus wept, the cloud of terroir infused fresh cut, fresh toasted, tobacco aroma was better than any medicine ever, certainly lifted me out of my Belgian-rain-induced depression.
Then Vincent said it was ok to smoke down there! I kid you not, a room full of some of the world's finest tobacco and he didn't mind me smoking! I hadn't even been intending to ask if I might- assuming Belgium has it's 'Health and Safety' laws too. He even gestured i could help myself to tobacco out of the huge trolley box of fresh made he wheeled into the cutting room to show me.
I went all 'Scrooge McDuck'' and plunged both hands into that box to lift a kilo or or more to my face to smell. I say 'Scrooge McDuck' cos all i wanted to do was strip off and bathe in the stuff!
I say 'he gestured' because by that time we had both realised communication was going to be difficult. Not helped by my constant saying 'Ja' when I meant 'Qui'.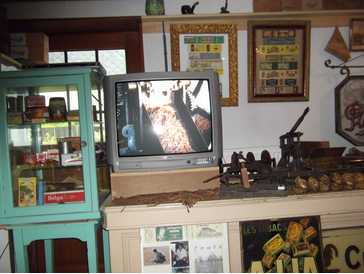 People, if you take nothing else from this post , beyond not checking into the Corbillon and checking the suspension on your car before driving up those bloody deformed and degraded chaussées , then this: Vincent's English is limited and I suspect his Flemish too. You will-if you are any kind of tobacco geek- want to talk to him so don't make my mistake and do brush up on your French, at least in regard to 'le tabac' before hand. The video Vincent puts on in the museum is ,of course, in French too.
Another mistake I made was being short of time. I only had an hour's time and i could have spent all day, infact a couple of days in the museum alone and even longer watching Vincent doing what he does so well. Unfortunately for me we were expected that afternoon in my Frau's native Hessia for coffee and cakes and it's a 4 hour drive even on a good day. Also, and another reason not to stay at the Corbillon, room check out there is at a very uncivilised, tourist unfriendly, 11:00 . No way I was going to pay another 100€+ to spend another night . I believe Vincent opens for 2 hours in the mornings and you'll want to have checked with him in advance that he will be opening the museum/atelier that day. Those 2 hours in the morning however will not be enough and you'll find yourself coming back for the afternoon session.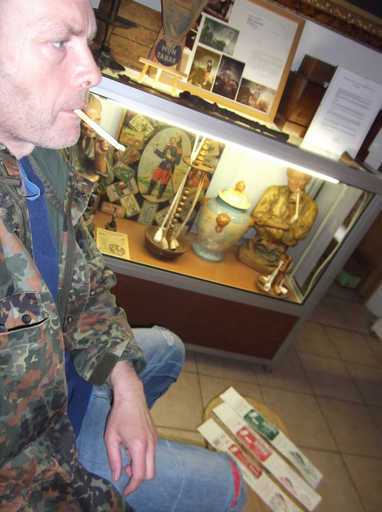 Another thing you will want to take with you, unlike me, is a working camera! Of course, Murphy's Law dictated that my digital camera would choose the day of my visit to Manil to die and my smart phone camera to have one of it's 'senior moments' (actually the years of alcoholism have left me with a slight only-noticeable-when-i-take-photographs tremor ). Which explains the poor quality of some of the photos in this post.
Until very recently I was 'FredTheShred', a leading seller of cheap tobacco cutters in the UK. So the first thing I wanted to see was Manil's 'hachoir' and also his toasting oven. Both of which i believe Vincent took over from his Father-in-Law back in the 80s and both were antiques in their own right. A glance at the remains of the last cutting on the chute of the hachoir and i can tell you that Semois is cut wet, wetter than most tobaccos and uncompressed or rather only mildly compacted ie not pressed into a brick or cake before cutting. In one of the online videos , Vincent explains that the semois leaves are soaked in a bucket for a day before cutting:
"Q: What are the main steps in producing this Vincent Manil tobacco?
A: We soak the tobacco. Not just steam it but properly soak it for one full day and night in a half-bucket of water. Twice in the 24 hours, I stir up the water and move the bundles around to keep humidity constant.
After that, the next day, we cut the tobacco in the chopper that you saw, which dates back to 1930 and was created here in Corbion by René Pierret. It allows me to make 8 different cut styles. Here I've determined three: a fine cut, a medium cut…. "
I would have loved to have chatted to Vincent about things like cut-width, degrees of Relative Humidity, blade bevel angles but my lack of French meant all i could do was take poor quality photos and hope to figure out answers from them later.