I always though a Mojo was just a sort of throwaway expression – a sort of street-cred version of a Muse.
According to the Cambridge English Dictionary however, Mojo is "a quality that attracts people to you and makes you successful and full of energy". I didn't know that it's actually a "quality" rather than just a "non-thing", but that's neither here nor there.
One thing I did discover today is that it is actually quantifiable and is actually quite visible. I discovered this when I was messing around looking at the numbers and dials for this site. I saw a graph of visitors over the last three months.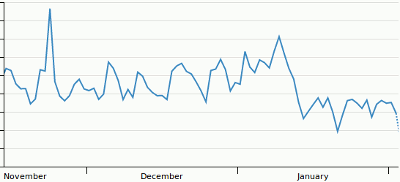 Now correct me if I am wrong but there is a definite shift in gears about a third of the way through January? Actually, I can specify the exact date – the 10th. I know it was the 10th as I remember the day [surprisingly enough] when I felt I had walked through an invisible door into a slightly different dimension.
I didn't know exactly what it was at the time. The following day I scribbled about being plagued by the Black Dog, but in retrospect I think it was just my Mojo vanishing. And what is quite remarkable is how it clearly shows up on the graph?
Around a week later, and still long before I realised what had happened, I wrote that I was thinking of taking a break. Reading back on that scribble, and reading between the lines I think that was when I began to realise that my Mojo might be the cause of the problem. The fucking thing had just vanished. I don't know where it went or why. Was it something to do with Donald Duck's election? Is there any connection with Brexit and Article 50? Maybe the dog took it to play with and forgot to tell me?
If there is anyone out there who might have seen it wandering around, could you please get in touch? I'm quite willing to pay for the postage and packaging though I'm not quite sure how one parcels up a Mojo. I really am quite lost without it.
In the meantime, I will keep a very close eye on that graph to see if there is any sign it's coming back.