Total catastrophe rained upon my head yesterday.
It started off as a normal sort of day. I pootled around as usual minding my own business. I had to go to the library later but they didn't open until three so there was no rush to go out.
At three I went down to the village and my first port of call was to stock up on baccy. No baccy! They were out of Condor. As usual they tried to sell me rollie tobacco and as usual I told them it wasn't pipe tobacco.
Being a resourceful sort of chap, I didn't panic and using my incredible powers of lateral thinking it occurred to me to call into the other shop where they also sell baccy. But they had no fucking Condor either!
Now I wasn't out of tobacco altogether so if I were a weather forecaster I would have declared a Status Yellow instead of a Status Red, but nevertheless this was a serious situation. Wars have started over less.
Once again, my powerful intellect came into play and I realised I could try a different baccy for a change. They had tons of Maltan, which is a tobacco I used to smoke nearly fifty years ago. I think I may have even started my pipe smoking career on Maltan so maybe it was time to renew acquaintanceship?
When I first started buying it it came in nice little one ounce tins which were excellent for storing nails and the like. Now of course it comes in plastic packs which aren't much use for nails but it does give the Anti-Smokers greater scope for images that are supposed to scare me.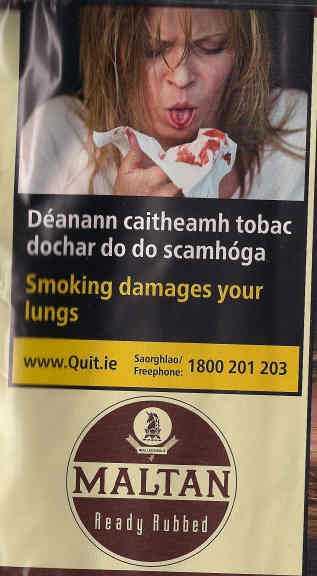 Now I'm not sure what I am supposed to make of their little picture. I presume this is supposed to be someone just discovering they have lung cancer but to me it's more like a woman who has just woken up [after a rough night] to discover she has spilt tomato ketchup on her sheets after the little feed of chips the night before. I'm not quite sure why they put a woman in in the first place as generally women don't smoke pipes? Or maybe they are just trying to be Politically Correct?
I don't quite know what to make of Maltan. It has a very faint sort of spicy or even herby taste to it. It's not as bad as those continental blends such as Balkan Sobranie, but it lacks the richness of Condor. It's somewhat akin to supping American Bourbon when you're used to Irish Whiskey.
I think I know why I switched to Condor though.