It's that time of year again.
Six years!
Six looooong years since I started this nonsense.
Three quarters of a million words.
Nearly two and a half thousand scribbles.
Well over half a million visitors reading one and a quarter million pages [one must assume that some pages were read more than once?].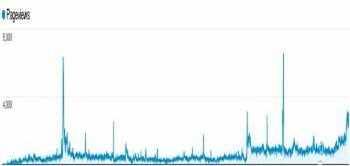 Three Irish blog awards and a Golden Spider.
A book.
And a partridge in a pear tree.
Fuck!
The longest post is also the most famous [for the next couple of days anyway] as it is the one about Sandy.  It was the hardest to write because of the reasons behind writing it, and the easiest to write because there was so much material. 
There are six vying for shortest post.  Zero words in each.  Don't ask!
The most popular page for some strange reason is "How to survive your first Guinness" which has been read a quarter of a million times.
The second most popular is Senior Citizen Porn.  Heh!
So where do we go from here?
Six more years of drudgery beckons?