I don't remember much about the launch of television in Ireland fifty years ago.
I very much doubt that many people do, as to witness the launch you would have had to have had a television and very few did.  They were bulky and expensive yokes, costing several weeks wages, and seeing as there were only two other channels [BBC and ITV] people didn't bother.  Also the signals from the UK channels were very weak so you would have to have added the cost of a massive great aerial to the cost of the set.  Television was the preserve of the wealthy.
It was another six or seven years before we got our own television.  It was a far cry from the sets that litter virtually every home these days.  No colour, a huge box with a small screen and six buttons to select the channels.  Changing channels or adjusting the volume had to be done at the set as there was no such thing as a remote control.  As well as the volume, chances were you'd have to regularly adjust the horizontal and vertical holds as the picture frequently broke up and would start to scroll or become a mess of horizontal lines.  Every time a car went past outside the picture would disappear in a mass of screeching black and white spots.
Things have come along a bit since those days.  Colour, flat screens, remote controls and satellite dishes have seen to that.
I have a choice of around seven hundred channels now, all with perfect reception and no interference.  Nearly every single one of them is pure unadulterated crap.  Of all those hundreds of stations I probably tune into about ten in all.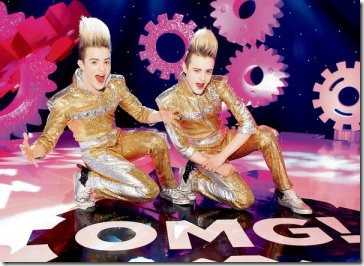 Fifty years of massive technological progress and all I get is fucking Jedward.
*sigh*