We had Puppychild stay with us last night.
It was more a case of child minding rather than babysitting as she is six and a half [and the half is very important].
As I had to bring her to school, I had to get up at the incredibly unearthly hour of eight.  Eight!  For fuck's sake, I had only just gone to bed.  Anyhows, she happily had her breakfast and suggested a game of hide and go seek.  I politely declined and managed to get her dressed, with only a few threats and a small amount of bribery.  Leastwise I got her to school on time and reasonably in one piece.
Of course that got me thinking.  I don't remember what age I was when I started school, but I think I was five.  The school was a mile away though it seemed like three times that, but I checked on Google earth and it was exactly a mile.  There would be a knock on the door in the morning and this young woman [she was probably about eight or nine, but she was fucking ancient as far as I was concerned] would walk me to school.  Hail, rain, snow or the occasional sunshine, we would walk that mile and come the afternoon we would walk all the way back.  In those days there was no such thing as being driven to school.  A lot of the parents didn't even had a car.
While I was in Google Earth, I had a quick glance and fuck me but the old Gulag is still there.  I thought they would have ripped it down years ago but it hasn't changed one jot.  They seem to have dispensed with the barbed wire and Alsatians though.  I wonder if the gate is still electrified?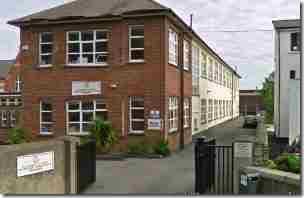 I really hated that school and it set me on the path towards hating all later schools.  It was a convent school and the fucking nuns used to freak me out.  I was terrified by those apparitions who used to shout at us from the top of the class.  They were just a mass of black with white bibs, and the only part of them that resembled a human was their faces.  I have been scared of penguins ever since.
To this day, I find it strange that Puppychild actually loves school.
Things must have changed a bit?