There was an item on the news last night about Justin Bieber.
Who the fuck is Justin Bieber?
Apparently he is well known enough to bring the centre of Dublin to a halt, with crowds of screaming kids running amok, trying to find him.
Now I have never heard the name before, and for someone to blind-side me like that is pretty unusual.  I decided to further my education by finding out precisely who this little sod is.
The first thing I found out about him is that apparently he is in the top ten of The Most Popular Women on the Web.  I thought that must be a misprint, but apparently not.  Very fucking strange.
The second thing I noticed is that he is the image of Donny Osmond, which is enough to send shivers up my spine. This is like something out of The X Files. Are the Mormons into cloning?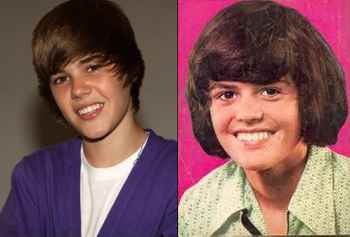 Moving on, I decided to find out a little more about this freak.
Search terms that have been used on the Interweb –
"Justin Bieber takes estrogen pills"
"Justin Bieber molests fan"
"Justin Bieber removes left testicle" [what the fuck?]
"Justin Bieber hermaphrodite"
"Justin Bieber syphilis"
"Justin Bieber impregnated his mother"
and probably the worst of all –
"Justin Bieber converts to Scientology"
Either this is one weird fucking kid or else he would seriously need to gloss up his public image a bit.
And to think that in my day, pop stars were frowned upon by the elderly because they had long hair.
What the fuck is the world coming to?