There are times when I wonder about coincidences.
I couple of days ago, for no reason at all, I began to think about our guinea pigs. Our K8 looked after them while we were on holiday in June, and I sort of, kind of forgot to collect them again. So she has been happily looking after them ever since.
Shortly after that, I got a comment on one of my musings from Sighs, of Guinea Pig Sighs fame. I hadn't heard from him in a while which saddened me as I like guinea pigs with attitude, and I like having a guinea pig commenting on my site.
I thought it was a strange piece of coincidence that Sighs should comment on the very morning I had been thinking about our wee rodents, but dismissed it as just that. Coincidence.
Later on that afternoon, I had a phonecall from our K8. As usual, she wanted to borrow something and said se was calling over. I said that was fine, as I wasn't doing much anyway. She then coughed quietly and asked if she could hold a funeral in the garden. Somehow, I knew what was coming next.
Poor wee Fizz kicked the bucket that morning.
Our garden is becoming quite a respectable graveyard. There are dogs, a cat and a rabbit buried there, and now a guinea pig has joined them. It was a moving funeral. Our Puppychild did a rather sweet oration at the graveside and then went off and played in a tree house I had built her. Kids are fierce resilient.
I'll miss Fizz. Of the two, she was probably my favourite.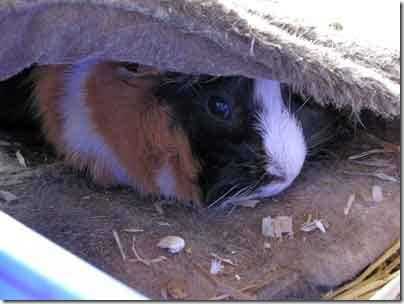 Sleep well, little Fizz