Four years ago, I wrote a wee article.
It was a simple pub survival guide, and it became the most popular thing I ever wrote. To date, it has been read by over 75,000 people. I thought it was time to revisit the subject with a drop of illustration.
For some strange reason, people [mostly Americans] haven't a fucking clue how to order a simple pint of Guinness. You would think it would be a straightforward process, but no.. they still fuck it up which not only means they get a shit pint, but they really piss off the barman in the process.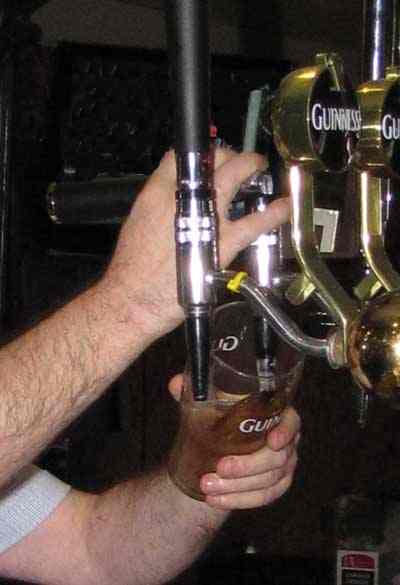 OK. This is the moment you have been waiting for. After waiting for fifteen minutes in the otherwise empty pub, you have finally managed to catch the barman's eye. You are obviously a tourist, so it is tradition that you be kept waiting. However you have now ordered your first pint, and the barman starts to pour.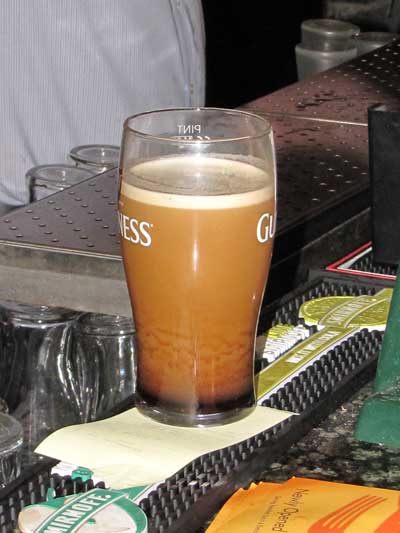 You have now reached your first hurdle. This is NOT a pint of Guinness. It is a partially pulled pint of Guinness. Any fuckwit who grabs it at this stage will be really lucky if they live, as barmen DO NOT like the glass to be touched. A lot of barmen keep their weapons of choice for this moment. Make a wrong move and you could be at the receiving end of a baseball bat.
Just be fucking patient and wait. If the barman wanders off, he hasn't forgotten you – he is just waiting for the next phase.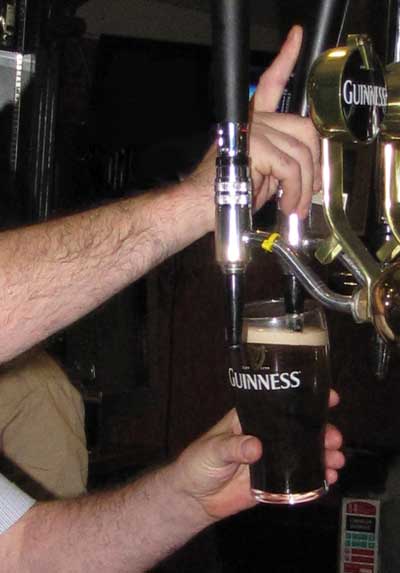 Eventually the barman will return. Make any sort of comment about being kept waiting and the chances are you will get shot. You have waited a lifetime for this pint, and another few minutes aren't going to make any difference. The barman now tops off the pint and will place it back on the counter. This is usually the time you offer to pay.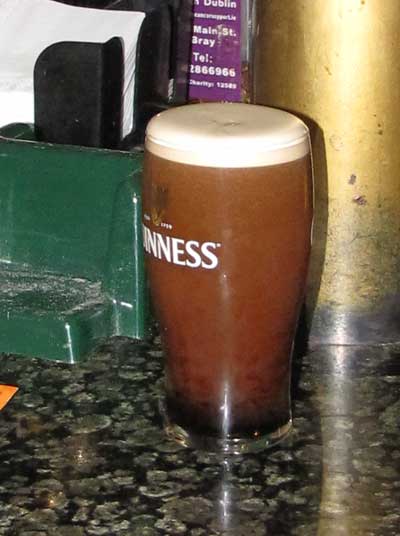 Right. You have paid for your pint and there it is. A full pint glass of frothing liquid. What do you do next?
No. You don't fucking drink it. You can now remove it to wherever you want to drink it, be it at the bar or at a table, but YOU DO NOT DRINK IT. This is the moment to savour the anticipation. You may carry on a conversation, have a cigarette or just sit and watch, but it does not go near your mouth. Yet.
Right. This is the moment you have been waiting for. Note the crisp black and white? That means the pint has settled. You can now drink and enjoy.
It's all quite simple really. Even an American should be able to understand that? I doubt it though.
-oOo-
I would like to say at this point that no animals were harmed during the filming. I would like to thank Mash [so called because he distills the best Poiteen in the village] for his patience.
In order to bring you the best photographs, we had to do about eight takes.
Then of course I had to drink the props.
It's a tough job, but someone has to do it.