I had the misfortune last night to flick across the television channels.
I came across that pathetic excuse for a political leader of ours.
The only positive thing I can say about that fucker is that I don't think he is corrupt.  He is too fucking thick to be corrupt.
For the benefit of any stranger to Irish politics, we have just had two reports published.  Both fairly and squarely place the blame for our financial ruin on decisions made by the Irish government through the last decade.  Both reports acknowledge the world financial crisis, but both reports say that our mess is of our own government's making.  And who was Minister for Finance during this period?  Yes.  The spluttering cunt who now calls himself our leader.
An opinion poll out today shows the mood of the electorate.  A staggering 83% of the population think the government is doing a shite job.  Actually, I am quite interested in the 12% who think they are doing a good job.  I honestly didn't think our mental hospitals were that full.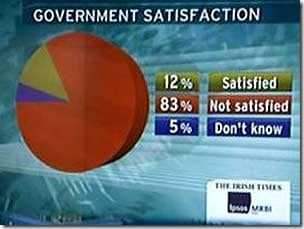 The dribbling idiot was being interviewed when I found him.  I despaired.
The fuckwit still maintains that it was world influence.  The miserable cunt still won't acknowledge that he and his cronies bankrupt our country.  Worst of all, he has the fucking gall to use word 'democratic' to explain why he is still in power.  "The government was democratically elected and has the mandate of the people to govern for the next two and a half years"
He told us last night that the country is showing signs of recovery.
Big fucking wow.
They have been telling us that for the last year.  Don't tell me.  Tell the 13.7% of the workforce who are unemployed.  Tell that to the people who are having their homes repossessed.  Tell that to the parents of the disabled who have had respite care removed,  Tell that to the elderly who have had their services curtailed.
Of course the steaming pile of wombat's shit is hoping that there will be a recovery within the next couple of years so that he can claim the credit.  Even now, he is trying to take credit for sorting out the mess he himself created.
Brian Cowen.  Spluttering Cunt.