Faces I could never tire of kicking – 5
I just cannot understand the popularity of cookery programmes on television.
Cooking is about taste.  It is about smell.  So watching a cookery programme is like watching snooker on a black and white set, or listening to a mime artist on radio – utterly pointless.
For some reason, cookery presenters all seem to be complete wankers.  Maybe it is one of the qualifications of being a cook, I don't know, but they all irritate me intensely.
It was a toss up as to whether I would go for Gordon Ramsey or Jamie Oliver.  I let them simmer for five minutes and this is what popped out of the pot.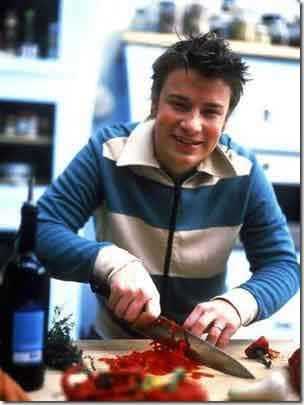 Jamie shredding his fingers.
There are so many things about this little fuckwad that get under my skin.  It's his "amn't I just an ordinary chappie, and doesn't everyone love me" attitude.  It's the way he can't put something in a pan without dropping it from the fucking ceiling.  It's the way he never shuts the fuck up.
I never watch cookery programmes because I just don't see the point, but this little shit inveigled his way into the system so he appears in advertisements and is difficult to miss.
The bottom line anyway is that he is utterly pointless.  If you can heat a tin of baked beans, then you don't need a Jamie Oliver in your life. Even if you can't heat a tin of baked beans, he isn't going to do it for you.  His total contribution to the development of mankind is a whacking great zero.  He is a waste of space.  He is using valuable oxygen.  He is pointless.
My only problem now is that I can't decide when to give him his kicking.
Do I do it before or after the lobster treatment?
Drop from the ceiling into a cold pan of water and then bring slowly to the boil.