I was sitting here last night minding my own business, when I thought I'd take a look at my mail.
There were a few sitting there all right, and my first thought was that the recession has definitely bottomed out, and we are on the way back to normality.  I know this, because they were offering me 80% off Viagra, but this has steadily been decreasing to 75%.
There was also a mail in there from the editor of The Irish Book Review in America.
He announced that The Book is their Book of The Week.
This annoyed me.  For a start they should have nominated it as Book of The Month, and also there were a few typos in the extracts they had published.  I told him my thoughts.
He neatly side stepped the issue and started pouring on the flattery.  He told me how funny the book was [I knew that already] and how it well deserved to be Book of The Week [I knew that also].  He asked me to write them an article about the Irish in America [I said I'd think about it].
But he then made the mistake of telling me how he got the book for nothing, as the publishers had sent it to him.  Now that really pissed me off.  I hate people who freeload off the back of my blood sweat and tears.
I got another email from him –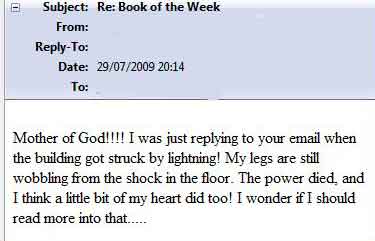 He has promised to pay for the book.
Some people just have to learn the hard way.
Don't mess with Grandad.