The newest antiquity in town
I have been invaded again.
Sometime on Saturday night some Bronze Age Tinkers broke into my lands and built this: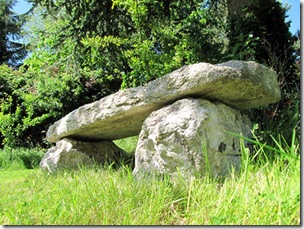 Now what in the name of Jayzus do I want with a portal dolmen?
I tried to get rid of it but the fucking think weighs a ton and is much too heavy for me to move.  TAT and our K8 called around yesterday for a barbeque and the three of us tried to shift it, but we couldn't budge it an inch.
I phoned the National Museum this morning to see if they wanted to come and take it away, but they said they had enough already.  They suggested that I apply for a grant to convert it into a tourist attraction, but I pointed out to them that it was my mission in life to rid the country of tourists, not attract more of the buggers.  Mind you, free money sounds nice, so I may apply yet, and then surround it with minefields?
I am baffled though as to how those Megalithic vandals built it.  There are no tyre marks on the lawn, so they couldn't have used a JCB, and anyway we all know that Bronze Age people weren't very good with machinery.
Herself has taken quite a fancy to it.
She now reckons she wants to be cremated and her ashes buried under it.  That is fine by me, and I suggested that as we had the barbeque going, we might as well do it there and then.  She changed her mind unfortunately.
So now I am lumbered with a pile of rocks on my land.  It's a right curse.  I am going to have to mow around it somehow.
I suppose though it is quite something to be the owner of the world's newest four thousand year old antiquity?
I wonder if the Guinness Book of Records would be interested?