Big Brother is watching you
Apparently the CIA are of some use after all.
As my regular readers will know, I developed quite a cosy relationship with them back in the good old days of Dubya.  They are eternally grateful to me for being a major contributor in his demise, and have been in touch with me ever since they removed the blacked out "Washington Power & Light" van from outside my house.
They wrote to me this morning and told me about their latest experiment.
Apparently they have been monitoring people's use of the Interweb by means of the little web cam thingies that are built into laptops, and which can also be bought by people with more money than sense.  They now have the power to watch you watching me [or anyone else].
As a personal favour to me, they sent me some figures about the people who read my site.  The only way they can obtain these particular figures is by peeking into people's homes, so it's quite interesting.
The first thing they told me is the age range of my readers.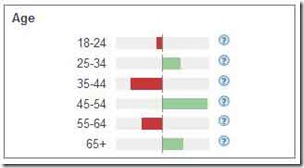 It's quite a relief to know that no one under 24 reads my site.  I hate these hoodies hanging around cluttering up the place.  I see Herself has a little peak of her own at the bottom too!  [She isn't really that old, but they can be forgiven for making that mistake]
Then they told me the gender.

So women don't like my site, huh?  Too fucking bad.  That's the last time I will publish a recipe.
I think the next one may be a bit inaccurate.

From what I can gather, most of my readers keep their children locked in the cellar or the attic, so the CIA wouldn't be able to see them in the background anyway.
The next one came as no surprise at all.

It is a very sad fact of life that my little old site is blocked from entering most offices.  I don't know why.  I think it is an educational informative site, and I would have thought any boss would be only too delighted to allow their staff broaden their minds a bit.
I was really delighted at the last one.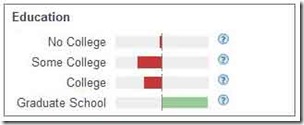 It is nice to know that my erudite writings are appreciated by the literati.  There again, the CIA tells me that they can only guess at a persons education from their accent, their spelling and grammatical skills and how many certificates they have on their walls, but who am I to argue?
So it appears that my typical reader is a fifty year old well educated male who has no children and browses from home.
Howya Kirk M!