Head Rambles Manor is quite an old place.
It was built the best part of two hundred years ago, and was built in the traditional style.  None of your concrete block or timber frame shit here – the house is constructed out of granite boulders.
The builders, or whatever they were, are gone now and the work is complete apart from a bit of decoration but I'll tell you about that another day.
The place is just about back to normal, apart from some flood damage, a collapsed ceiling and the fact that we can't use the jax or use electricity any more. 
One aspect of the building has left me with a bit of a problem though.  In the course of their shenanigans, they removed some of the original wall, and we now have these massive boulders lying around the place.
One of the boulders has caught my eye.  It's a huge rectangular slab of granite, which I think originally took the load from the roof, which explains why the slates are starting to slide down.  It occurred to me that this slab would make a very attractive seat in the garden.  I thought it would look nice with a boulder under each end to raise it, and with a bit of luck it could be mistaken for a Portal Dolmen which would mean we would be entitled to all sorts of grants from the National Museum.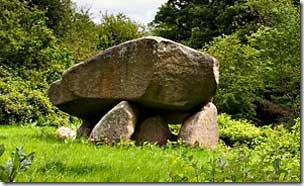 My problem is how to shift it.  The fucking thing must weigh nearly half a ton, and I don't think Herself is up to carrying that kind of weight on her back.  I am a very considerate husband and would never ask her to carry anything that a JCB might have trouble with.
I have to move it about a hundred yards.  I thought of dragging it, but that would chew up what's left of the lawn.  I can't roll it because it isn't round.  I can't carry it.  I'm stumped.
Were is Iron Age Man when you really need him?