Back in the 60's, our lane was little wider than a car. It had grass growing down the middle, and a lovely old gate at the entrance, which was permanently open.
My father went around the other four houses in the lane and asked them if they minded if he moved one of the gate pillars. No one objected, as it made the entrance a little wider.
So my father demolished the old pillar, which was in a sorry state anyway, and built a new one further back into our land.
He took his time over it and built a strong sturdy granite pillar using the stones from the old one. He even embedded one of the old gate hinges for the sake of authenticity.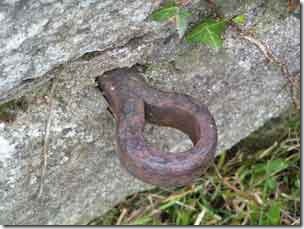 It was the last bit of real building he did before he died.
I see that pillar now as a memorial to him. It has weathered beautifully, and is now covered in moss and ivy. It looks like it has been there for a hundred years.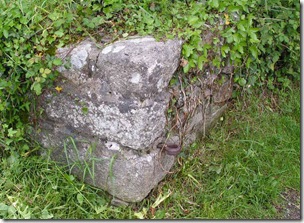 Because of its associations, I am very attached to that pillar. A couple of times I have had to berate local estate agents who insist on drilling it to hold their 'for sale' signs. I object, because they never ask permission. If you click on the last image above, you can see at least four holes that have been drilled.
There are one or two residents who want that pillar removed, [and a piece of my land taken] so that they can swing off the road into the lane. You know my response to that.
That pillar actually makes the entrance to the lane safer. It stops people from swinging in. They have to slow down because it is a sharp bend. Apart from acting as a safety barrier, it also prevents erosion of the corner, and it looks nice. It adds character to the lane entrance.
My father is interred in the local graveyard. That is a beautiful quite spot on the side of a hill, and he has his headstone there. But he isn't there. He is here in the place he loved so much. The pillar is his headstone. It may not have any engraving on it, but it is his personification – strong, rugged, quiet and in the right place. I think of him every time I pass it.
Some people may not understand my attachment to that pillar. To them, it is a nuisance as it stops them entering the lane recklessly.
To me, it represents the cornerstone of my existence here.
There are those who would try to deliberately damage it or remove it by fair means or foul.
By God, I will defend it to the last.