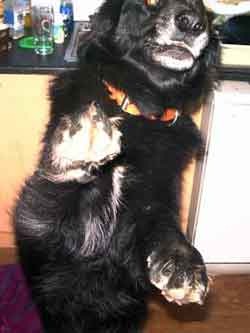 Wouldye?  Woodya?  Wooja?  I don't know how to spell the fecker's name.
We're 'babysitting' That Dog at the moment.
He is half a ton of brainlessness.  He is a twit, a moron, a Homer Simpson.  He is also immensely powerful.
When he is in the garden, he plays with rocks.  Our lawn is decorated with boulders.  He could outclass a JCB.  I think one of his ancestors built Newgrange or Stonehenge.
When he is indoors, he isn't allowed rocks, so he plays with bits of paper or old leaves instead.
He'll stand and look at a bit of paper for ages.  Eventually, he will pick it up and spit it on my lap.  I am supposed to throw an old leaf?
I got really tired of him yesterday.  I had to demolish a wall he had built in the garden. 
I sent him out to play on the road.
The inevitable happened – A racing SUV; the sound of screeching tyres; the crash.
Half an hour later, That Dog came wandering up the lane quietly chewing the side panel off a Discovery.
I went out to have a look.  He had destroyed the car.  It was covered in toothmarks and slobber.  He had chewed it completely out of shape.
I like That Dog.
But I'll have to think of a new name.