Twink draws in the crowds
Yesterday was a very quiet day on the Interweb.
But I was browsing through my stats this morning and came across this.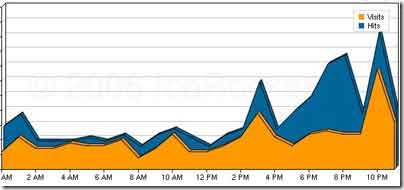 Now what the hell could cause such a peak after ten in the evening?? Had somebody Stumbled something? Had the word spread about Grandad's genius?
No.
My top search term for all of yesterday was "zip up your mickey".
Now, last night I was very tired. Herself has the flue or something so neither of us was up to much. I flicked into "Tubridy Tonight" to see who he was interviewing and it was that old slapper Twink. And Tubridy asked her about the infamous phone call. So obviously people wanted to hear it. And I happen to have written about it.
Good old Twink. She may be a slapper and way past her sell by date,
but she can still draw in the crowds.