Zip up your mouth and tie your legs together
I found my brain, and I'm sorry I did.
It had fallen down behind the log basket, if anyone is interested.
Herself came in earlier and switched on Liveline for me to listen to.
Twink was on. Yes. Her of the "zip up your micky" fame.
For the three of you on the planet who haven't heard that one……
Twink is a has-been 'entertainer', who was once part of the Maxi, Dick and Twink trio back in the 60's? 70's? A long time ago anyway.
She is now relegated to pantomime and appearing on the panels of those ghastly 'talent' competitions.
There is a bit of a row going on at the moment, because during a televised competition [which, mercifully I didn't see] she gave very high marks to some kid on the show. It transpired that she knew the kid, or the kid's mammy or something.
Joe Duffy had her on Liveline. Well, he didn't actually have her, as I'd say he has better taste, but she was on the show, facing the wrath of an angry nation. By God, was she in form! She didn't actually descend to expletives, but she was damn close. She went on about her professional 'integral' [her word, not mine] and how she was the ultimate person to judge talent because she was in the business so long [by my guess, a couple of centuries?].
She roared abuse at anyone who disagreed with her and was generally in fine form. I'd say it was the menopause, but she's much too old for that. Maybe RTE will put up edited highlights? That would be fun.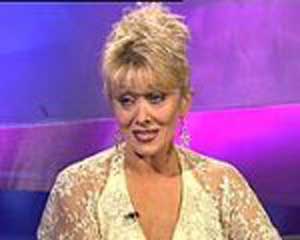 Crap picture, but the camera doesn't lie.
It was followed by a woman who was complaining that her little boy [9] had his leg tied to another boy's leg for fifteen minutes as a punishment in school.
For f*ck's sake!! What is going on in the world? In my day, we thought we were lucky if we were still alive at the end of the day.
And then she had the neck to bring Little Precious to the doctor to see if he was permanently damaged? If I were the doctor, I would have broken the kid's leg just to show Mammy what a serious injury looked like.
I blame the parents.
Particularly Twink's parents, for having her.
-oOo-
Update:
Shane Hegarty has just posted a link to the programme. [But I got the story out first!]