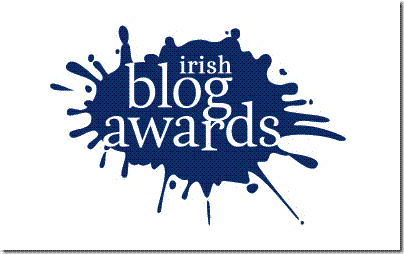 Everyone is talking about the Irish Blog Awards.  And why not?
I have been nominated in the Best Blog, Best Personal Blog and Most Humorous Post [for 'God to sue America'?] categories, and to whoever voted for me, I extend a humble thank you.  I know someone did, because I didn't vote for myself.  I don't expect to get too far because there are so many excellent entries.  The competition is just too stiff.
What really delights me is to see that K8 the GR8 got two nominations too.  She is in for Best Newcomer and Best Blog Post.
I am going to be rooting for her because she has a talent for writing, which she refuses to acknowledge, and I don't want her saying "I told you so".
What I want you all to do is to nip over to that Best Post.  It is certainly one of the best posts I have read since I started blogging.  The blogging world can be cruel and cynical.  It can be funny and thought provoking.  But I think this piece of writing is a little oasis of love.