How much is a blog worth?
Here is my valuation [for what it's worth] …

My blog is worth $101,617.20.
How much is your blog worth?
However Ian reckons it's worth a lot more. He wrote to me recently …
Red Cardinal's post on 1st January prompted me to compare myhome.ie (price €50m) with Headrambles.com (price blood, sweat and tears). The gap is closing rapidly. do you think you should sell out to the Irish Times?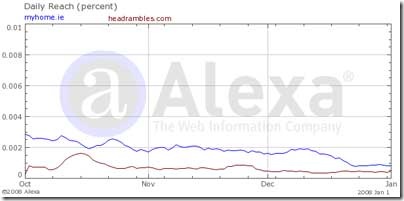 Myhome is the top graph, and Headrambles is the bottom one. I think the latter must be worth a fair chunk of €50m?
Then I go and find that I am quoted on the stock exchange!
Not only am I quoted, but my shares are doing quite well, thank you very much.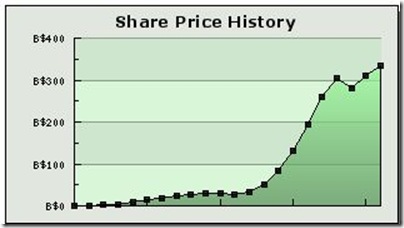 I seem to be bucking the international trend.
The only problem is that I don't own my own blog! Apparently it's owned by two others.
As Ian says – "It's a funny old world".