The weirdest things happen on the Interweb.
I discovered yesterday that I have been short-listed for the Golden Spider Awards.
They haven't told me this. I never got any e-mails or anything. I just came across it by accident on their website. I'm a platform apparently.
I took a bit of a swipe at them a while ago and launched the Golden Crab Awards.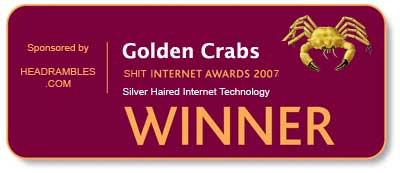 Then, for the laugh, I entered myself on the premise that if they accepted this, they'd accept anything. Apparently they accept anything.
Not that I'm knocking the other nominees. I'm not. They are good blogs and one of them deserves to win.
There's
www.balconytv.com who I confess I never heard of 'til now.
Deborah at blog.humblehousewife.com
www.beaut.ie who I'm not going to mention.
www.newsweaver.co.uk/emailnewsletters who is my arch rival at the Netvisionary Awards!
And Damien at www.mulley.net who is one of the great heros of the Irish Internet scene.
Incidentally, one thing I came across on the Interweb… One of the entries is ColourGlass in the New Indigenous Website category. Nice site. Nice clean design. Now take a look at this. nice clean design!! Fair play to the developers of the site. It cost them $74. I wonder how much they charged the client for the design?
I didn't sleep a wink last night.
Mind you, that was more down to Herself trying to poison me again, than to the awards.