I am thinking of becoming a professional blogger.
To do this, I need to scrap all my other work activities. Therefore I need an income.
So what I'm looking for is a sponsor.
No. I don't want a sponsor for the site [that's too cheap]. What I want is a sponsor for me.
The problem is that a sponsor for the site could have a big advertisement on it, but I'll be damned if I'm going to walk around with a big advertisement on me. So a little bit of deviousness is called for.
I have chosen my sponsor, though they don't realise it yet. It won't cost them any more than €50,000 a year [index linked, of course] so that isn't a big deal.
I have written a few times in the past about Cully & Sully and their fish pies, and how I'm inundated with their ceramic bowls. It's payback time.
You see, I now rank as number one in Google in Ireland if you search for them. As a result I get a lot of visitors to my site looking for them. I'm the first port of call, as it were.
So I am in a position where I can do them a lot of good.
I can tell everyone how I virtually live off their pies and how delicious they are. I have also discovered their soups, and there is nothing quite like the Minty Pea Soup. I can sing their praises until the cows come home.
Or
I can tell the world about my weekly dose of salmonella, and how I keep pleading with the grocery store to send me anything but Cully & Sully stuff.
It's up to Cully and Sully.
Over to you, Lads……….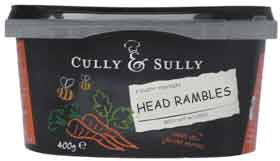 -oOo-

My blog is worth $66,051.18.
How much is your blog worth?
Hah!