Web Design Company in hostile takeover
I have heard in the past about 'hostile takeovers' and often wondered about them.
I had pictures in my mind of boardrooms and people shouting at each other and solicitors sending nasty letters to each other.
The reality is far worse.
Last night, I was sitting minding my own business [that is a pun-to-be as you will see], when there was a knock on the door.
"Are you the owner of Silver Hair Internet Technology?" asks a bloke with a hat and dark glasses [even though it was night-time].
"I am" says I, thinking this might be a secret approach for a massive contract from an international organisation.
"We are taking it over." I couldn't say whether or not he batted an eyelid because of the dark glasses.
"F*ck off" says I in my politest tone.
He pulled a gun on me.
I was a little surprised as people in the countryside are usually quite friendly. People have take pot shots at me in the past but not at my front door.
Herself was inside doing her knitting, but when she realised what was going on she let Tiddles loose.
There was mayhem. Tiddles found one of them [there were quite a few of them apparently] and started playing with him. Bullets started ricocheting off the walls. The dog took cover as she hates loud noises and Herself started firing off the sawn-off. She nearly hit me a couple of times, but that was accidental. I think.
Then they started on the heavy stuff. When a mortar round blew the neighbour's house to bits, I tought it was time to call a halt.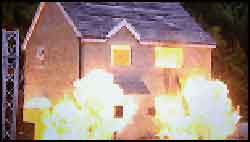 "What exactly do you want?" says I when the dust had settled a bit and Tiddles was back in the garage.
"We want Silver Hair Internet Technologies. We are prepared to pay a good price"
"Why didn't you say so?" says I. I had grown bored of the web design business anyway and would be glad to be shot of it.
It transpired that he represented a company called "Hosting Online Technology" and they wanted to merge the two. So he gave me a very reasonable cheque [considering I had done little or no work] and I signed the papers, and gave them all a cup of tea.
In retrospect, I realised that I had been the victim of a hostile takeover, but I didn't mind. They could have handled it better, and I'm a bit annoyed at having to apologise to the neighbour's relatives.
So if you see a web design company called 'shithot.ie' don't go to them. Ron's company is much better anyway.
But God help us if Ryanair launch a proper hostile takeover of Aer Lingus.
Stealth bombers over Dublin?