Who's a happy camper then?
Recently, Twenty had the timerity to imply that I was gay.
This was based on the weird notion that pipe-smokers are gay. Strange.
I could reply that he spends his life putting fags in his mouth and sucking on them.
I wouldn't do that. That would be too obvious.
Twenty is entitled to his opinion. Opinions are just that – opinions. The thoughts of an individual. And thoughts are insubstantial.
Images are considerably more substantial. We have seen images of Twenty throughout his site. On the banner, pooing around the world and so on. But have you ever wondered why we see only the top half? Could he be hiding something?
So I did a search on the Interweb. And you'll never guess what I found.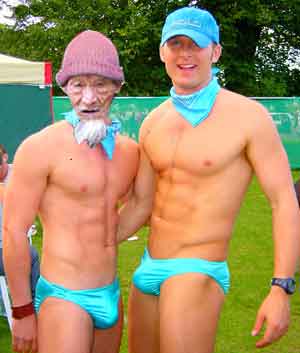 Twenty and 'friend'
As my friend Boris from Moscow wrote – "Двадцать. Вы находитеÑ?ь хорошим пиÑ?ателем, но не называем Grandad гомоÑ?екÑ?уалиÑ?т. Вы бородатых пизда."
[P.S. I think pink suits him]
[P.P.S.  I have nothing against gays, and I wish him well.  It's just that I'm not one]