… and Blue Tits and Coal Tits. I have Bullfinches and Chaffinches and Goldfinches. I have Blackbirds and Thrushes. And they all nest in the garden. We also have Doves in abundance and they nest in our shrubs too.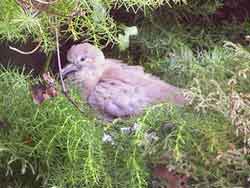 Tame Dove Fledgeling
I have Bertie Aheron too, who is a [too] regular visitor. Unfortunately I don't have that much in the way of animal life. There is a very shy and elusive squirrel that nests in one of my trees, but I only see him [her?] very rarely.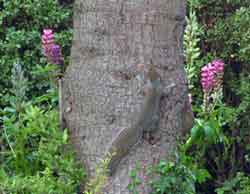 Cyril the Squirrel going home
I have a fair sized garden, and I love it. There is a lot of lawn, with a pond and a few flowerbeds. But the main attraction for the wildlife is that I have two small areas of woodland, and a lot of hedging.
I love this time of year. The garden has been full of promise for a while, and it is delivering in abundance. The snowdrops are all gone, and the witch-hazel is no longer in bloom, but everywhere else is budding and blooming like mad. The trees are all budding except for the weeping birch – that will happen shortly. The daffodils are all in full bloom along with a spectacular camellia.
We planted a mimosa, or acacia which provided a spectacular display of yellow flowers last year. Unfortunately, the snows earlier in the year broke off a huge branch, an it was the branch that carried all the flower buds. So no display this year. But maybe the tree will be stronger for its natural pruning?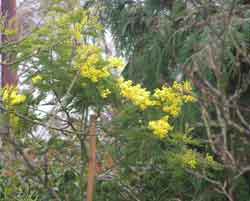 Acacia in bloom
One thing that has delighted me is that the snakes-head fritillaries, which I thought had been accidentally dug up a couple of years ago, are back and in bud. They are rare enough so I am chuffed.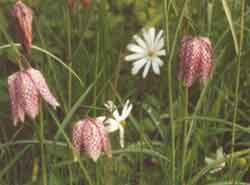 Fritillaries [and a daisy]
But then, just as I wax lyrical about the joys of spring, it goes and does this…..