I never met my Grandad.
He died before I was born. I would love to have met him. He was a man of great vision.
In the 1930's, aircraft from the states were sea-planes and they landed at Foynes on the Shannon. But my Grandad knew their days were numbered. He came up with the idea that the government build an airport in Cork where land based planes could land and this could act as a hub for airlines to carry travellors on to the rest of Europe.
In fact he suggested that Ireland should set up its own airline that would carry the American arrivals on to their destinations. He even suggested a name for it – Aer Lingus. Originally the proposal was "Aer Loingeas" [air fleet] but this of course was modified.
Politics got involved, of course and there was the usual committees and investigations and delays. Shannon got built first, but my Grandad persevered. Cork airport was eventually built [on a site he had originally suggested]. Aer Lingus was founded too, and they used his name for it. But he never got any credit.
So he could justifiably be called the Father of Modern Irish Aviation?
A book was written ["The Story of Cork Airport" by Michael Barry]. I have a copy. It devotes several chapters to my Grandad, so I'm not making any of this up. But Michael Barry is the only person I have ever heard of to mention my Grandad in connection with aviation.
Another story [true] that I was told is that one day, my Grandad was driving out the Beara Peninsula in Cork with his assistant. As they passed through adrigole, Grandad saw some children climbing over a stone wall. As there was nothing the other side of the wall except mountains and wilderness, Grandad asked his assistant where they were coming from.
Apparently, they were from Lauragh on the other side of the peninsula, and had to walk miles through the bogs and climb over the Caha mountain range every day to attend school in Adrigole.
So my Grandad built them a road [he was an engineer and surveyor]. That road became known as the Healy Pass.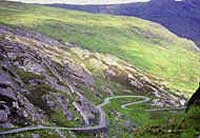 The Healy Pass is a spectacular feat of engineering as it corkscrews up to the pass at the top. It is now a major tourist attraction.
Another time he nearly had an accident in the fog. He came to a bridge that was marked with black and white paint, but the fog meant the paint didn't stand out. So he tried replacing the white with yellow. It worked. He persuaded Cork Council to replace all the black and white markings with black and yellow. They did. It has now become an international standard.
Another time, he and his son gave a public demonstration of wireless [radio] to the people of Mallow. They packed the hall to hear this strange apparatus. His son had built the radio himself from scratch. The only items he didn't make were the valves that had to be imported from England. It was supposed to be a concert from London, but at the last minute was replaced by a programme on politics. Some things never change. But the audience were enthralled.
It is strange that a man who did so much can vanish into total obscurity.
---
Postscript to the above.I have Googled for his name in vain. There is no mention of him on the Internet anywhere. I intend to put the matter right.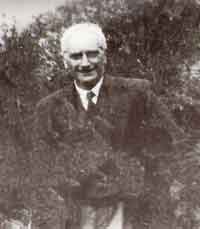 He was Richard F O'Connor of Clydaville, Mallow, Co. Cork. He was Cork County Surveyor. He died in 1940.
---
Another postscript….I have just checked the Internet again [05/03/2007]and two new sites have popped up:
The first is Aer Lingus Group plc – Information from Answers.com where they cite
Nevertheless, in the next few years a number of air companies sprang up, at least on paper, eager to supply transatlantic air service to the Emerald Isle. Richard F. O'Connor, County Cork Surveyor, originally proposed the name 'Aer Lingus Éireann.' His prospectus noted that Bulgaria was the only other European country that had not yet started its own airline. Interestingly, Ireland was also the only country which allowed civil aircraft to fly into all its military airfields.
The second is a new page in the Cork Airport site where they include in the history:
1933
Richard F. O'Connor, Cork Co. Surveyor makes his ideas for an airport known – aerodrome site at Belvelly and seaplane base in Cork Harbour; Cobham's Air Circus at Ballincollig 5th and 6th July.
I have also added his name to Wikipedia 😉
So, at last, he is being recognised.