People who make life better
This is not a rant. This is not a ramble. This is just a little piece about my grandson, Sean.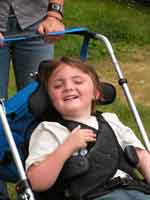 Sean is five and a half now. He is a beautiful child. He is very happy and he brightens up our lives. He has made us all into better people. We have learned what love really is. Sean has Cerebral Palsy.
His mammy wrote a letter on his behalf, because he can only speak with his eyes, and he can't hold a pen. That letter has been published on the Jack and Jill website. You should read it, because it shows real love and understanding. It also explains why I have a link to Jack and Jill on this blog.
Last night I ordered some toys for him on the Internet. I ordered them off a site called Thinking Toys. This is no ordinary toy shop because they also cater for children with very special needs.
There was a slight glitch in the order process, so I phoned Aine who runs the business. She couldn't have been nicer or more helpful. I sent her a fax showing what I had ordered and she rang me back within minutes to say she was dealing with it straight away.
It isn't often you get service like that.
So, in spite of all my moaning, I do think there are good people out there.
And it's only fair that I write about them sometimes.