Come on Ireland – wake up.
It's funny how blogging tends to focus the mind.
I didn't know it would actually change the way I perceive the world, but it has.
It has also taught me a few things about the world.
I am about to make a momentous statement. One that I never before thought I would make.
Americans [in general] are not stupid.
There. I said it. I actually feel a bit better now.
Americans are just different. I don't like the way they talk with their "Hey Guys" and their "take a raincheck" and weird expressions like that, but that's their business. I also don't like the way they mis-spell everything and abbreviate everything. They even abbreviate their cities to LA and AC and the like. [If anyone is interested, I was born in D. My parents, were from C and L. Herself is from L and we have lived in S, B, K and K].
Who cares if they don't know the difference between Australia and Iraq [though I hope Bush does, for the Australians' sake]
American foreign policy is a different matter, but I'll leave that for now.
The people who are stupid are the Irish!
The Irish have an obsession with America, and I don't know why. The kids all have to use American slang, which drives me up the wall. They use all those irritating expressions that they have learned from "Friends" and other un-funny American TV programmes.
When she was in her "daughter from hell" phase, our offspring used to use them all the time – "You are soooo not right" and "If I don't go to that party I wil DIE" [she didn't know how near that last one was from the truth!!].
Pat "The Plank" Kenny loves to use Americanisms too [another reason I hate him]. He calls his guests "you guys" and uses "I guess" instead of "I think" and "chill out" and loads of others I can't think of at the moment. Prat!
I was parked in a car park yesterday [quite a good place to park, actually] and there was a battered old van in front of me. He had the American flag displayed in his rear window. Why? That flag appears everywhere. Why?
I have seen lots of houses with basketball hoops attached to the walls, usually decorated with stars and stripes. Why? I have NEVER seen anyone using them.
I nearly bought a basball bat yesterday. I don't play baseball, but I thought it might be handy if Herself got stroppy. But it had stars and stripes all over it so I didn't.
Modern children now think they are not living if they don't have a can of cola in one hand and a burger in the other at all times. They waddle around like mini Cartmans. Irish children should be reared on a diet of tripe and Guinness, like we were. And we ate at the table, not in the street [another peculiar Americanism]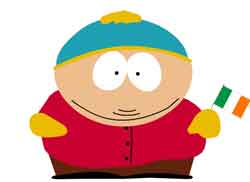 Another thing that drives me insane is the assumption by advertisers that if they introduce an American scenario or an American accent, that we will fall over each other to buy the product. I have written about this before, so I won't repeat myself.
So my message to the people of Ireland –
You are Irish. You are not American. Think for yourselves, and don't let the television think for you. Stop being so pathetically gullible.