Big Brother is a conspiracy
The Nanny State strikes again.
So far we have had to put up with speed limits, safety helmets, seat belts, smoking bans, ban on corporal punishment and loads more. But it's all for our own good. We have to be protected from ourselves at all costs.
Now the EU and the UN have stepped in and are banning slapping for God's sake.
So now we can't bring up our children without the Nanny State looking over our shoulders.
I had the living daylights walloped out of me in school on a regular basis. They even had specially made leather straps for the purpose. We behaved ourselves in class. There was respect for authority. There was no disruption in class. I didn't grow up to be a child molester, or a serial killer or a thug. Mind you, there's time yet.
I gave our daughter the odd slap in the past. She deserved it. It didn't do any harm. If she was beyond reasoning, then a slap on the back of the legs worked wonders. In fact after the first couple, the threat was all that was needed. She has grown up to be a [reasonably] well balanced person. We love her and she loves us. And she has no complaints about those slaps [Incidentally, if there is a comment from "Offspring" denying this, then ignore it. "Offspring" is an imposter].
One time recently, my granddaughter started belting my grandson. She is two and he is five. But he is severely handicapped so he can't fight back. We told her to stop. We tried to distract her. She kept belting him over the head with hard toys. My daughter gave her a slap on the back of the hand. She stopped hitting her brother straight away. Lesson learned.
I give Herself the odd wallop with a baseball bat. She likes it. It shows I care. She gets me back with the frying pan when I'm dozing in the armchair. That's love.
If this law comes in and my daughter still wants to slap her children, I'm not going to stop her. It's her business, not the EUs or the UNs. They can f*ck off as far as I'm concerned. Unless of course they are going to provide individual carers for each and every harassed mother who has a screaming child in the supermarket.
You know where this is leading. Don't you?
The next thing is that they will ban smoking in the home. And we won't be allowed more than one whiskey or one can of Guinness. It will all be for our own good. And we won't be allowed to fart because it upsets the ozone layer.
So to enforce all this anti-smacking, anti-smoking, anti-drinking and anti-farting, they'll have to install cameras in every room in every house. But the peasants have been brainwashed into thinking that spy-cameras are great, because of Big Brother.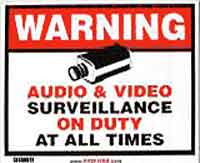 I forecast the day will come when I reach for a top-up to my drop of whiskey and a voice will boom from the speaker in the ceiling telling me I've had enough. Or I raise the leg after a vindaloo to relieve the pressure and I get 10,000 volts up the backside because I'm producing too much methane.
When they come to install the cameras, I'll be there with Herself. We'll have the baseball bat and the frying pan handy.