I'm having a good time messing with my security camera.
Messing is required as I don't have a manual and I can't look the camera up on the Interweb as it doesn't have a name or manufacturer. Well, there was a manual which was a concertinaed scrap of paper with printing fit to be read by a flea. It was almost unreadable, but I have "mislaid" it anyway.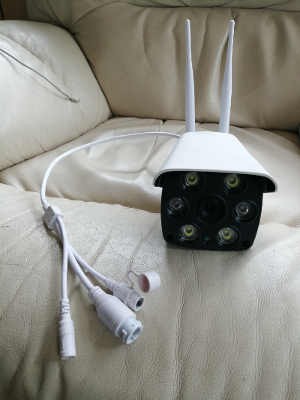 There are some problems that I have nearly solved, but it ain't quite ready for installation yet.
First of all, there is the bunch of cables. From left to right they are Power, Ethernet and a button that does something but I'm not sure what [reset?]. The more observant of you may have noted that the bunch is only about a foot long which means all those connectors will have to be waterproofed [unless I drill a huge hole in the concrete wall – no chance]. Also the power unit is the type that has a transformer in the plug so the power socket has to be near the camera. I have yet to buy a 12V power extension lead, but at least such a thing exists. I still have the waterproof problem.
Anyhows, I set it up in the house so it's looking out the window. They did give instructions on how to connect to my laptop and mobile phone so it does work. I even discovered what al those lenses are for. The camera lens is actually in the middle, the ones on each side are infra-red and the top and bottom four are LEDs that provide enough light to illuminate the entire parish and the hills beyond.
The next problem was that it insisted that if I wanted to actually record anything I had to sign up to some web site I had never heard of and to hand over my credit card. Fuck that for a game of soldiers! Do they think I came down with the last shower?
I cracked the camera open and admired all the wiring and circuit boards. There was a space that looked like it was expecting a memory card to be slotted in though there was no indication that this wasn't a coincidence. Anyways, I robbed a micro-card out of Herself's phone [which is dead since she drenched it]. It fitted nicely so I reassembled and powered up. Wow! I was right. It is a slot and I now have internal memory which works and records any movement which the camera sees.
As I said, I can access the camera either on my laptop or my phone. For some strange reason they give completely different functions. Depending on the device, I can replay recorded movement alerts [phone] set alarms [laptop] and various other tweaks. The only one I can't find is sensitivity. Is it going to alert me every time the dog walks over to the gate, or does a burglar have to stick his face within three feet of the camera?
My next phase is to buy that power extension lead and then place the camera out on the roof to see how it reacts to the postman. If it works, I'll mount it permanently.
I suppose I had better send myself a postcard to be sure the postman calls?