Yesterday there was a "Trans Pride" march in Dublin.
This is after a month of "Gay Pride".
What next I wonder? Amputee Pride? Vasectomy Pride? People Who Don't Give A Fuck Pride?
How about Smokers Pride?
Smokers make up a fair proportion of society who are doing something quite legal, yet they have to suffer the burden of "sin taxes" and punitive laws and where the public are actively encouraged to vilify and attack them. If any of those measures were applied to any other minority grouping there would be public outcry. There is an open and vicious campaign to "de-normalise" smokers and to turn society against them.
Well, fuck that.
Every time I walk through the village I consider myself to be a Smokers Pride march. Years ago it woudn't have occurred to me to light up while smoking [pipes are generally a sedentary pastime] but since they tried to "de-normalise" me I take a pride in my lifestyle. I am not ashamed, nor will I ever be. I have even taken to bringing my Gandalf pipe with me to the village to impress the kids in the street.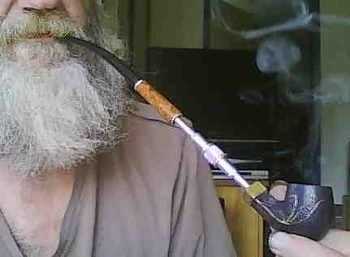 I was never proud to be a smoker in the past. It was just something I did, like wearing shoes or driving a car.
Then they tried to "de-normalise" me.
Now I'm Proud Smoker.