Plain packs plain confusing
The Tobacco Fanatics' so called "plain packs" are starting to appear here.
The shops have been given up to the end of this month to dispose of those evil packs which entice so many of us into bad habits.  After that the new ones will be mandatory.
Here is a comparison between the two with the old pack on the left and the new on the right.  Note the amazing difference?  For the sake of the exercise we'll ignore the images of the child having his tonsils sucked out and the gentleman with the very badly photo-shopped scratch on his back, but just look at the rest.  Yes – the white has turned murky.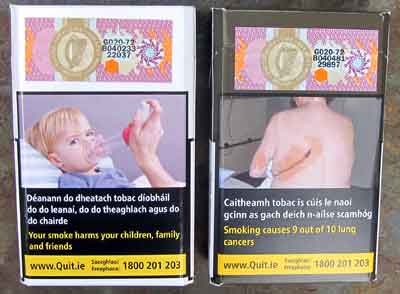 So let's look at the front.  Now here we notice the staggering difference.  Here we see the amazing technique that is to make such an enormous difference.  We see now that it's the little purple Silk Cut logo that is driving so many youngsters into a frenzy of cigarette buying.  Who'd a thunk it?  How can they possibly resist such an obvious incentive to take up a lifetimes pleasure of smoking?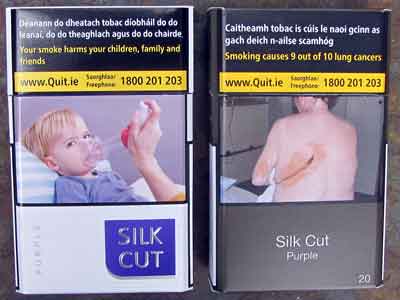 I chatted to the lad behind the counter.  He was not best pleased.  The cigarettes weren't too bad as each brand has its own slot in the vending machine, but the pipe tobacco is a different kettle of onions, as it's kept in a drawer.  He opened the drawer.  It was a sea of identical packs so he has to check each one individually to make sure it's the right brand.  I didn't buy any as I didn't want him to have a heart attack.
Does anyone seriously believe that this is going to make the blindest bit of a difference?  The only people who will be affected are the shopkeepers who are going to have to check each pack individually.
I don't think this is quite the game changer that James Reilly was having orgasms over.
Do you?