Writing about the smoking ban
So the tenth anniversary of the UK smoking ban is nearly upon us.
I will be honest and say that it leaves me in a bit of a quandary.
Do I write about it or not?
I could be arming myself to counter all the mythical statistics which are bound to fill the meeja, but Christopher Snowdon has already done that.
I could do my own little bit of nit picking by saying that they claim one in every six deaths is caused by smoking, while I claim that over half of all deaths in Ireland are caused by having blue eyes.  It's the same logic.  More than one in six smoke, so naturally one in six deaths are smokers, and the same applies to blue eyes.  The Church of Health hasn't copped onto that one yet?
Or I could harp on about the number of pubs that have closed as a direct result of the ban, but Forest have already covered that.
So here is my quandary – what the fuck is left for me to write about?  Apart from anything else I get the distinct impression that I am preaching to the converted, though I am delighted to say this site gets a lot of people looking for information on smoking [top search term for today – "anti smoking propaganda lies"!].
Maybe I will just mark the occasion by writing about cute little doggies?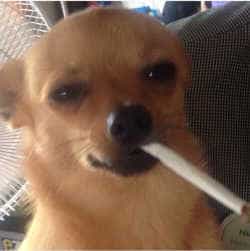 [Thanks, Darryl!]