The lighter side of engineering
I like my Peterson lighter.
Like Herself, it's solid and reasonably reliable. While not in pristine condition, [like Herself] it has a well worn look which adds a little to its charm. Unlike Herself, it retains its gas and only occasionally need a refill.
It does have an unforgivably bad design flaw though.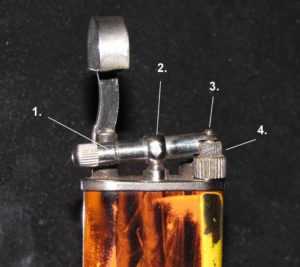 There is a tube along the top of it (1) that holds the flint. There's a screwy thing with a spring inside it to hold the flint against the little strike-wheel (4). All is well and good up to this point.
Now the tube thing (1) is supported by a little thingybob (2) with a ring at the tob to hold the tube. For some reason best known to the makers [and possibly a bar tender in Jamaica] the thingybob ring (2) isn't fixed to the horizontal tube (1) which means the tube (1) can slide in and out horizontally, in a slightly suggestive manner.
At the business end of the tube (1) the strike-wheel (4) is held in place by a miniscule screw (3), about which the strike-wheel (4) can rotate.
However…. When the tube thing (1) slides in and out, it exerts a force on the little miniscule screw (3) which of course causes it to snap if any kind of pressure is put on the screwy thing (inside 1) such as dropping it or running over it with a car. And when the miniscule screw (3) breaks, there is even less to stop the tube (1) sliding all over the shop. Also the flint no longer meets the strike-wheel (4) at the right angle and the whole fucking thing jams up.
I pondered this problem of the tube (1) not being fixed to the thingybob (2). I considered wedging something in to the ring but I knew that wouldn't work. I thought of gluing it but the metal is too smooth. Soldering crossed my mind, but only briefly. In the end I just gave the thingybob (2) a belt with a lump hammer.
It worked!
I had managed to crimp the thingybob (2) so it now holds the tube (1) in a vise like grip. The broken screw (3) is hanging in there by the grace of God, the strike-wheel rotates nicely and the flint meets it face on. I can now postpone buying a new one, at least until finances improve.
I just have to remember not to drop it any more.
Or run over it with the car.