It's strange how the mood changes.
Normally I smoke my Elie's Ekool Curved pipe.
It comes in several parts, where each part is functional and has its little part to play.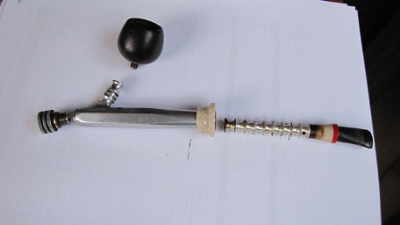 The bowl is interchangeable [and I have a fine collection]. That screws into the metal body using a hollow bolt. The little plug on the left unscrews to let the goo out, and the mouthpiece is attached to a finned yoke which forces the smoke to spiral up the metal body which acts as a condenser. Because of all this arrangement, it gives a very cool dry smoke, and the tobacco burns right to the bottom as it doesn't get wet.
Stick the whole lot together and that's my normal pipe.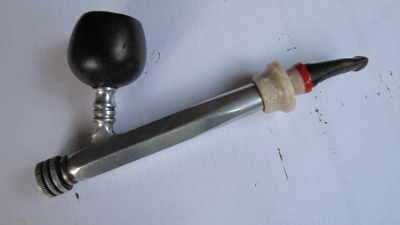 lt looks a little strange, and does tend to get noticed in public. Quite a few times i have been asked about it [usually by women, for some reason]. I have also had a few wisecracks as to what I'm smoking in it.
Yesterday I suddenly got tired of it and decided to go for a change.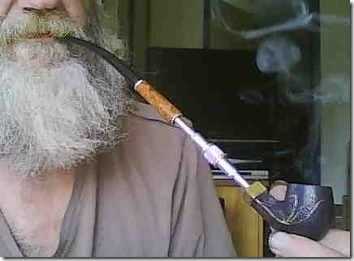 Now there's a pipe! It's another one of Elie's masterpieces. I haven't used it in quite a while and it has been lying in pride of place on display. It's lovely – nicely balanced in the hand and also gives a nice cool puff, though the goo does tend to dampen the tobacco at the bottom of the bowl.
As well as being a nice smoke it is a great crowd puller, and I have featured in more than one photograph when I have been relaxing down at the coffee shop.
I'll give my Curved a break for a while and then go back to it.
A change is as good as a rest.
Or so they say.