I dropped down to the village on Saturday to get some smokes for Herself.
I asked the Sweet Young Thing who was serving for a couple of packs of Silk Cut Purple which is Herself's favourite tipple, though I swear if she didn't see the package she wouldn't notice the difference.
"Do you want boxes?" says Sweet Young Thing.
I wasn't sure what she meant by that. Was she offering a whole carton of packs? Were fag packets now enclosed in child-proof cases [nothing would surprise me these days]?
"Just packs of fags" says I.
"We have a special promotional thing" says SWT. "Same price. I'll show you".
And show me she did.
I was impressed! Nice little tins that were made of well…. tin. None of your cardboard or any of that shit – little tins the like of which I haven't seen in donkey's years.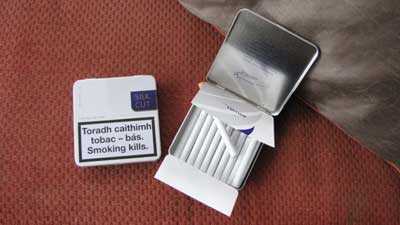 Of course the very first thing that crossed my mind – just perfect for the glory days when they introduce the grizzly packaging. No need for a new cigarette case. No need to play the part of a brow beaten victim of Tobacco Control. Buy the dirty new packs and just decant into the nice little tins.
Of course the tins still have to have their sad little slogans on the front but their Photoshopping is discreetly placed on the bottom of the tin where you can't see it. So there is only a very small modification needed and the tin is ready for years of hard use.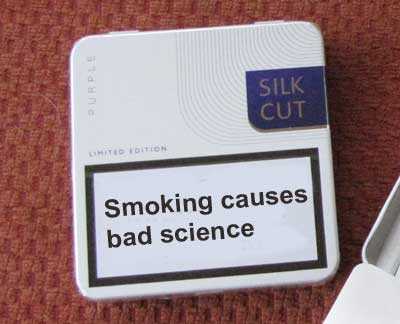 Or maybe something a little more soothing?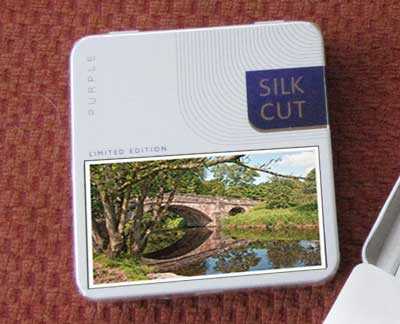 There are endless opportunities and each and every one of them is a resounding Fuck Off to Tobacco Control. Brilliant!
I'm going to buy a whole batch of them. Maybe I'll paste pictures of the Grandkids on them [she'd like that], or pictures of SpongeBob so the younger Grandkids won't be scared of photographs of people's guts and entrails. I will create different batches – some for casual use and some for formal occasions.
They will suffer from wear and tear though in the future. I remember my Dad's old tobacco tins that had the paint rubbed off the corners from constant friction, not to mention the odd scratch and dent or two.
I can see myself buying a whole load more fags in the coming weeks until stocks run out.
Nice one, Lads!