I must admit that mobile phones do have one little advantage.
So their screens are irritating and they are slow and infuriating but I do tend to have mine on or about my person most times. And therein comes their advantage – they have a crappy little camera.
I like photography and have a nice little [?] Canon which takes excellent snaps but it's a little on the bulky side and if I started carrying it around I would not only develop a distinct list but could potentially be mistaken for a tourist, which in this part of the world could be fatal. So I tend not to carry it unless I have a deliberate intent to take a photograph.
Last evening I saw a sight which is reasonably common in these parts but is also short lived. I didn't have my camera handy but I did have my phone.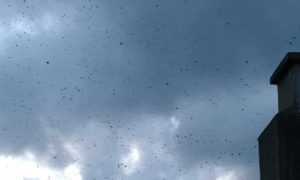 Click to embiggen
Now that may not look like much? Just a corner of my chimney, some clouds and some dirt on the lens?
Not dirt. Rooks.
They love this time of year and on a windy evening will take to the air and take over the air. Millions of the fuckers rise up from the forests behind us. Well, maybe not millions but a lot. And they make a hell of a racket. And the they decide to rest and every branch on every tree along with overhead wires and aerials wil be swamped by them. I have lost a few aerials in the past – broken by the sheer weight of rooks.
They really were in form last evening. That picture is only a fraction of the sky and the sky was full.
I sometimes wonder how many could be taken down with just one blast of a shotgun?
Not that I would do that of course.
Guns are reserved for the tourists.