You would think I would have learned by now.
But apparently I haven't. Well, I nearly haven't.
My little problem started a couple of days ago. I download a few files every morning. I have a little script which I wrote that does it all for me – I just type in a command on the laptop and off it goes connecting hither and thither and grabbing all the files I want. Now in the bad old days it used to take a couple of minutes to do it's little jobby, but then I upgraded to fibre and the job is finis in around fifteen seconds.
A couple of days ago it stared taking its time again and would sit there for about a minute and a half before announcing its completion with a little fanfare. I wasn't impressed. I did a speed test on my Interweb connection. It was fucking crawling along at little better than the setup I endured for the last few years.
I pondered this point. If I was still getting an improvement on my old speeds, even if only marginally, then I should be happy? But then the little devil on my shoulder pointed out I was paying for this fibre [albeit slightly less] and was therefore entitled to a bit of service.
This morning, my connection was slugging along again, which somewhat hardened my resolve, so I armed myself with a large mug of tea, a freshly stoked pipe, a few valium and a plate of sandwiches in preparation for what would undoubtedly be a lengthy and frustrating phonecall.
Just before I dialled the dreaded number I thought I would try one more thing. I knew it would be futile but there was no harm in checking, mainly so I could tell the idiot in the call centre that I had indeed tried that. I connected my laptop directly to the modem using cable rather than wireless.
Fuck me!
The needle hit the stop during the test.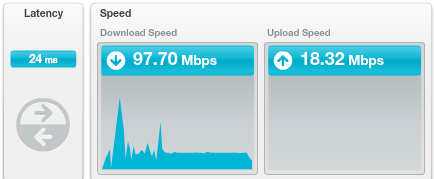 Boy but I was relieved I hadn't dialled that number!
So I spent the last couple of hours tweaking things and generally fucking around with settings, and suddenly my speed on the wifi is back up to reasonably normal. I'm not quite sure what I did, but I know I disabled a couple of things and enabled a couple more [just to keep the balance right – I'm very PC with modems and routers]. I have no idea why it suddenly decided to go rogue the other day, as I hadn't been anywhere near it.
The moral of this little tale is very simple.
Never jump to conclusions.
How did I not remember that little rule?