I mentioned before that there is an "Irish Bloggers" thing on Farcebook.
At the time I said that I joined more out of curiosity than anything else. My fears then have been confirmed ten-fold – Every new announcement is along the lines of "Hello Girls! I have just started a new blog on lifestyle and beauty/fashion/food/health" [delete where applicable]. Basically it appears to be a seething mass of female hormones all writing about the same thing.
A new one popped up the other day from a site I hadn't heard of.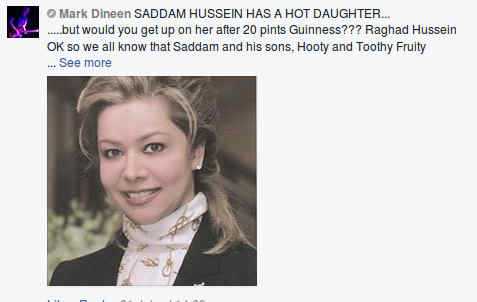 At last! thinks I, someone who isn't writing about all that lifestyle, fashion, food, health, make-up shite. Maybe there's hope yet. Naturally I followed the link and found the site – Portagregor.
Make what you wish of it [and grammar/punctuation nazis can shut the fuck up] but here is a site which isn't Pink and Fluffy which in my book puts it head and shoulders above the rest of them. It is one of an elite few that has a drop of humour and isn't full of oestrogen and fripperies.
As an aside – they recently touted for entries for the Irish Blog Awards [or whatever they call themselves these days] and I deliberately didn't mention it because I didn't want some smartarse entering my efforts. Those awards are just not the place for someone of my sensitivities and it's time to leave them to the Pink and Fluffy Brigade.
Anyhows, apparently the comments on Farcebook came in thick and fast under the above entry!
"Wait, what?!?"
Wait, what what? Don't know what the fuck that means.
A bit confused with your post here Mark. Can you please explain a bit more? This group normally tends to stay away from misogyny and it would be sound to keep it this way.
Explain what? It's a fucking blog post. Read it or don't read it. Your choice. And who says the group should stay away from misogyny? This sounds like a rule that's invented on the spur just to make an argument.
Your comments are offensive to all women. How would you like a guy to say this about your sister/daugher or other female relation?
Aw for fuck's sake! He's writing about one woman, not all women. Jayzus but the Snowflakes are out in force.
Hey Mark, if there is a decent story to be told why the sexist angle? That's what I can't understand. If you've something worthwhile to write about why not let it speak for itself? Personally the sheer misogynistic tone of the post means that I wouldn't click on the article. I understand the allure of click bait but keeping it respectful to women would hardly take away from your post. Maybe something for you to consider? In general, in this group you will find a great majority of women so know your audience and all that
In general, in this group you will find a great majority of women so know your audience and all that? Hah! Great majority is an understatement. And who says he is writing exclusively for them? Like myself, he is just writing on a topic that has crossed his mind and I very much doubt he even considered the demographics of his audience. If he did, then he's doing the wrong thing. Instead of letting the writing flow, he would be self-censoring and writing an anti-septic version which would defeat the whole purpose.
So Mark – you have been told. You entered a room full of touchy women and the professionally offended and have raised a few hackles. Now I have nothing against women, just as I have nothing against men but when these pseudo-feminists gang up and start throwing daft accusations of misogyny about that gets my hackles up. These women have chosen to be offended so I choose to have no sympathy with them.
If they can make up rules about misogyny then so can I. If you don't like what you read then stop fucking reading it. Just fuck off somewhere else and read something that conforms to your delicate sensibilities.
And in answer to the question above…..
Yes I would.