There was a blog awards thingy in Dublin last night.
I didn't hear about it until a week or so ago when someone mentioned it in passing on Twitter.
Thank God I wasn't nominated. The categories included such gems as "Best Beauty Tutorial", "Fashion & Lifestyle" and "Wellness, Mental Health & Fitness". I would have been the spare prick at the wedding only I couldn't have been nominated anyway as there wasn't a category that would have fitted me.
There is a Farcebook site out there for Irish Bloggers and they invited anyone who had a blog to sign up. I assumed Blogs included Journals so I signed up. Since then loads of others have joined and I have noticed a distinct trend emerging. Virtually every single newcomer describes their opus as "Lifestyle and Beauty", "Lifestyle and Fashion" or "Lifestyle and Food". There is ne'er a mention about the real things in life – the things that matter – but I suppose that is just a reflection of the modern generation.
The same Farcebook site posted that they were looking for images from members to create a banner from the site, so naturally I submitted mine. I didn't think they's use it, but use it they did. And there I am, like a diamond amongst the pink pebbles.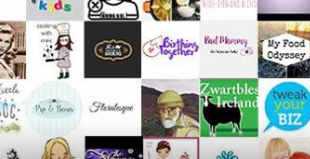 I used to care about awards. I have won more than my fair share, including three from the Irish Bog Awards and my Golden Spider, but I really don't care about them any more. They are a bit of bling to sit on the window ledge and gather dust but that's all. The fact that people still read my shit is award enough.
Anyhows the Irish aren't that much bothered with this little corner of the universe. I just checked, and so far this year the United Kingdom accounts for 35% of all readers, followed by the United States at 32%. Ireland dribbles in at 10%.
Obviously I'm not pink enough?
Maybe I should start writing about Lifestyle, Fashion, Lifestyle, Food, Lifestyle and/or Beauty?