A little touch of obesity
I brought our dog Penny for her annual road test yesterday.
I was supposed to go at the beginning of the month but I was busy, and anyway Penny hasn't a clue what week it is let alone the month so I doubt it matters.
Anyhows, they prodded her and poked her, listened to her heart and poked things up her arse, stuck needles in her and generally gave her everything except an oil change and a headlight check. I don't like these sessions as it was at one of these that they discovered our Sandy had a tumour four years ago. This time, Penny got a clean bill of health with a little sharp intake of breath as a postscript.
I don't like sharp intakes of breath as they usually indicate a lurking undercurrent of disapproval. I wasn't wrong.
"She's a bit overweight?"
"She's just big boned" I replied with a mental thanks to Cartman of South Park.
"Nice try, but she is definitely a bit porky."
"Not at all" says I. "She's a mongrel who inherited a small head, a long tail and long thin legs from her mother and a fucking big body from her father. I know she looks a bit unbalanced, but that's nature for you."
Unfortunately they had been keeping records of Penny's weight. Back in '14 she weighed 17 kilos, and in '15 she weighed 21. We weighed her: 21 again.
"At least she hasn't gained anything?" I said hopefully.
That didn't wash, and the outcome is that Penny has to lose at least 3 kilos. Fuck!
This is going to be very tricky. The problem is that Penny is violently allergic to exercise. A walk of more than a couple of hundred yards sends her into anaphylactic shock and the only cure for that is a long lie-down. A couple of years ago I tried throwing a tennis ball for her and she gave me a disdainful look and went straight to sleep. Apparently tennis balls are for idiots, in her book at least,
Penny likes her rest. Never stand if you can sit, and never sit if you can lie down, is her motto in life and she sticks to it rigidly. Occasionally she will have a mad fit and tear around the garden at a frightening rate of knots and sometimes she chases imaginary cats but those moments are few and far between. The rest of the time is devoted to either lying down or sleeping.
So I am going to have to starve her.
She ain't gonna like that.
I can see many days ahead where she is going to lie on the floor with an empty bowl between her legs giving me pathetic looks while I try to ignore her.
She is a genius at looking pathetic.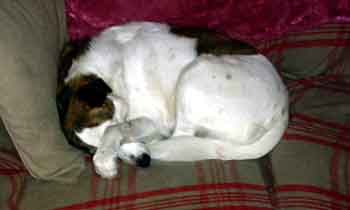 Just fuck off and let me sleep. OK?